Researchers at Tohoku University and Osaka University in Japan have developed a process that uses waste silicon sawdust to create anode material to be used in lithium-ion batteries.
While producing silicon wafers, some 50 percent of the silicon is discarded as industrial waste in the final cutting phase. This waste amounts to about 90,000 tons per year worldwide. Researchers say this waste could meet the demands for anode materials in lithium-ion batteries.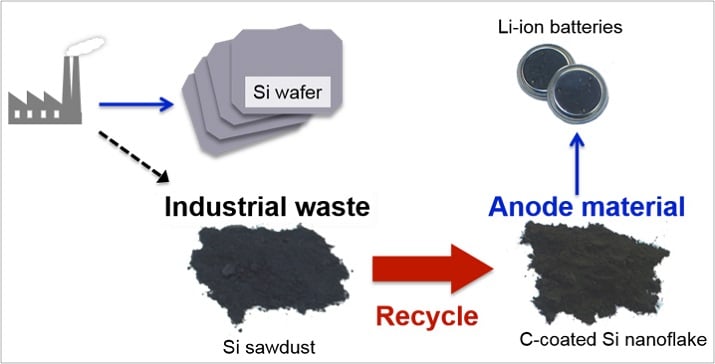 Silicon sawdust with carbon coating has shown to be an effective way to fabricate high-performance, durable lithium-ion batteries. Source: Tohoku University The team used pulverized silicon sawdust in the form of nanoflakes about the thickness of 16nm and coated them in carbon making an effective material for use in batteries. The team created a test half-cell that achieved a constant capacity of 1200 mAh/g over 800 cycles, which they claim is 3.3 times as large as that of conventional graphite.
The research team is proposing the recycling of unwanted silicon sawdust method as a way to mass produce high-performance lithium-ion batteries at a reasonably low cost. The next steps are to see how the batteries will be used in a practical way in the battery industry.