Researchers from Aalto University, Finland, analyzed the recycling process for batteries. The team used simulation-based life-cycle analysis that took energy, water consumption and process emissions into consideration.
Battery recycling is a largely unstudied area of recycling. This is especially true for the sizable lithium-ion batteries of electric cars, which are on the rise.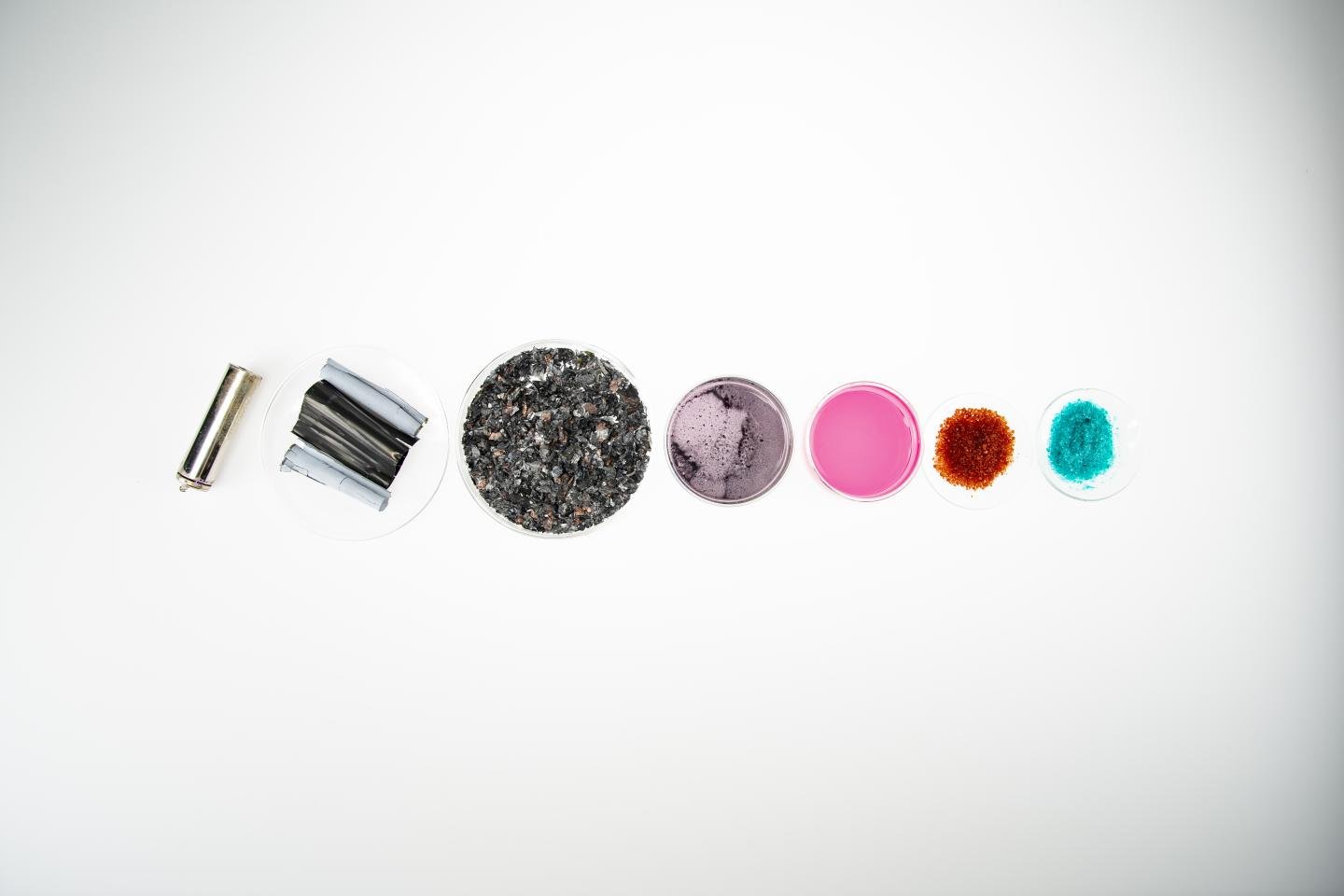 With new solution-based recycling processes, more raw materials can be recovered from batteries. In the picture, a red cobalt salt and a blue-green nickel salt have been obtained from a battery cell. Source: Valeria Azovskaya/Aalto University
The European Union (EU) will be home to 30 million electric cars by 2030 and aims to recycle 70% of mass battery waste by that time, with a goal of recycling 95% of cobalt, nickel and copper and 70% of lithium.
Battery recycling is still developing and the environmental footprints are largely unstudied. For recycling to be effective, it must be more ecological than producing raw materials.
Battery recycling often uses smelting, which typically ends up losing lithium and other valuable raw materials. Novel hydrometallurgical processes separate battery metals from waste using dissolution. This allows for the recovery of all metals, but it consumes large amounts of energy and chemicals and often produces contaminated wastewater.
The researchers found that the carbon footprint of raw materials obtained by the recycling processes studied was 38% smaller than using virgin materials. This difference grows if copper and aluminum are recovered during mechanical pre-treatment. While this is great news, the areas that need improvement were identified. For example, using sodium hydroxide as a neutralizing chemical significantly increases the process's environmental load.
The team found that this analysis can be used by industry and policymakers to create environmentally friendly processes before the new methods are implemented. This would be useful for determining how certain choices or process parameters would affect the environmental impacts of a process. Simulation-based life cycle analysis can be used at the design stage.
It is important to create efficient recycling methods because the amount of battery waste will skyrocket with electric car growth.
The study was published in Resources, Conservation and Recycling.