A new method of manufacturing high-power density electric micromotor windings has been engineered by mechatronic technology developer Mirmex Motor. Seven years of research and development have resulted in the commercial availability of this groundbreaking technology, which completely revolutionizes traditional winding design and manufacturing methods.
Constructed from flexible printed circuits and developed using artificial intelligence (AI), the micromotors feature excellent performance and maximum precision. The units can be up to 50% more compact, 70% more dynamic with three times fewer heat losses and assembled 10 times faster than most of the existing solutions using conventional windings made from copper wire.
Designed for use in high performance industrial and surgical precision powered tools, active prostheses, aerospace and robotics, the motors are fully customizable thanks to Mirmex Motor's proprietary software developed in-house. Simplification of motor production results in quicker manufacturing time with reduced tooling costs — an impossible process using traditional copper coils.

Mirmex Motor's technology is primarily applicable to slotless permanent magnet motors, whether used as synchronous machines or as slotless brushless direct current machines. These devices have existed for 40 years but have not seen significant innovation since their inception. While traditional high-performance coils are extremely complex to design, manipulate and manufacture, the company's innovation meets the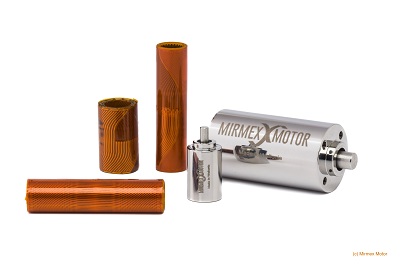 Source: Mirmex Motordemands of users looking for increased performance and the convenience of compactness.
Instead of winding the yarns individually, innovative winding topologies are created and printed on strips of flexible printed circuit board material. These proprietary patterns are designed using AI algorithms and, once wound, the overlapping layers form an electric motor winding, achieving performance far above the competition.

As a result of its research, Mirmex Motor has been able to implement an automated process for the creation of winding topologies and validate the printing on flexible materials of winding patterns that are impossible to reproduce traditionally. The coils made on these flexible circuits provide unparalleled performance to the motors in which they are associated.

These new patterns offer immense possibilities that go beyond the mere shape of the windings. By varying the size, patterns, thickness or interconnections of the conductors, the achievable coils can transcend the capabilities of the micromotors. The design of the ideal motor depends on its use, its environment and its constraints. The Mirmex Motor software develops the best composition on a case-by-case basis and is easily adaptable to a variety of situations due to the flexibility and high degree of design freedom offered.