Newark, a division of Avnet, has launched another iteration of the Raspberry Pi based on the Model 4B single-board computer with an updated form factor.
The Compute Module 4 (CM4) is accompanied by two accessories — the Compute Module 4 I/O board and the Compute Module 4 Antenna Kit — and supports PCIe and multimedia interfaces. CM4 is designed for engineers, makers and hobbyists to make artificial intelligence (AI), internet of things (IoT), smart home and industrial automation applications.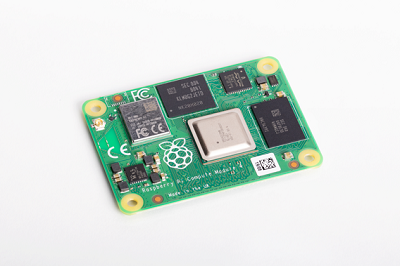 The Compute Module 4 is designed for makers and engineers developing smart home, IoT and industrial automation. Source: NewarkNewark said it is estimated that 40% to 50% of Raspberry Pi boards are being sold to industrial customers and OEMs. Access to the process interfaces and GPIO pins is provided via dual 100 pin high density connectors. CM4 is available with different eMMC flash and dynamic random access memory (DRAM) density options as well as optional dual-band wireless connectivity. A lite variant is available without the eMMC fitted.
The CM4 is powered by a Broadcom BCM2711 quad-core ARM Cortex-A72 64 bit processor clocked at 1.5 GHz, with 1 GB to 8 GB of LPDDR4-3200 synchronous DRAM (SDRAM) and up to 32 GB of eMMC flash memory. The modules feature hardware codec support for H.265 and H.264 and supports dual-band IEEE 802.11 b/g/n/ac wireless networking and Bluetooth 5.0.
Priced at $35, the CM4 board also features Gigabit Ethernet connectivity with PoE support, two full-size HDMI connectors, two USB 2 sockets, with a header for two more sockets, a micro-USB socket for updating the CM4 and a micro SD socket for CM4 lite modules and a PCIe generation 2 x 1 socket.