Among the newest offerings in oscilloscopes is the T3DSO2000A series from Teledyne Test Tools (T3), a trademark of Teledyne LeCroy. The product line expands upon the capabilities of the previously introduced T3DSO2000 series.
According to its product datasheet, key specifications of the new line include:
Bandwidth: 100 MHz, 200 MHz, 350 MHz and 500 MHz models
Channels: 2 or 4
Sample Rate: Up to 2 GS/s (interleaved)
Memory: 100 Mpts/Ch (200 Mpts interleaved)
Display: 10.1 in TFT-LCD capacitive color touch screen with 1024 x 600 resolution
Connectivity: USB for mass storage, printing and PC control; LAN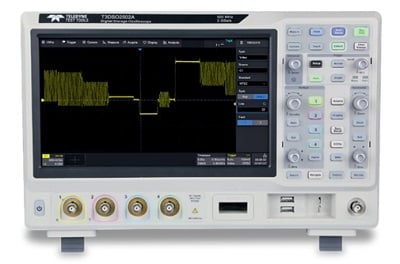 The 2000 and 2000A series of oscilloscopes for debugging. Source: TeledyneBy comparison, models in the 2000 series offered bandwidths ranging from 100 to 300 MHz, and memory of 70 Mpts/Ch (140 Mpts interleaved). The memory boost translates to the ability to capture more time, and to show more waveform detail. The new display is also an upgrade from the 8 in bright TFT LCD with 800 x 480 resolution of the 2000 series.
Both the 2000 and 2000A series are billed as being designed for "debugging with confidence." Serial bus triggering and decoding, optional on the 2000 series, makes it possible to debug serial buses directly in the oscilloscope; several protocols are standard for the 2000A models. The waveform sequence recorder allows users to replay changes in waveform history with its ability to record and play back up to 90,000 waveforms, up from 80,000 in the 2000 series.
Additional features common to both series include connectivity tools enabling fast export of data and screen images for external analysis and reporting, and the user-upgradeable option of a 16-channel MSO for mixed signal debugging. A user-friendly front panel design, support for a multi-language display and embedded online help are also standard features. Commonly used functions can be accessed with 15 different one-button operation keys on the 2000A series, up from 10 operation keys on the 2000 series.
Teledyne LeCroy said that the 2000A series employs a new generation of high-speed display technology for excellent signal clarity, fidelity and performance, as well as a system noise floor lower than similar products in the industry.
The T3DSO2000A series is available through distributors including Digi-Key, Mouser Electronics and Saelig.