Saelig Company Inc. announces the availability of the Teledyne LeCroy WaveSurfer 3000z, 4-channel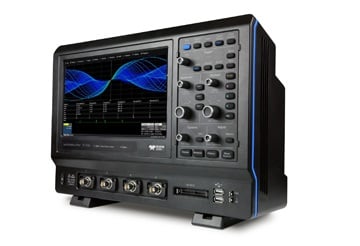 Source: Saelig Company, Inc.oscilloscope range, offering 100 MHz - 1 GHz bandwidth, capacitive touch capabilities, huge memory and a comprehensive tool box in a compact footprint. Featuring an advanced user-interface — MAUI — on a 10.1 in. capacitive touch screen, the scopes all have 20 Mpts of memory, multi-instrument capabilities, a selection of powerful internal test tools and a sample rate of up to 4 GSa/s.
Clearly marked controls are provided for channel control, zooming, math and memory access. "Push" knobs add easy functionality and shortcuts to common actions, while dedicated buttons can quickly access popular debug tools. Optional mixed-signal capability provides 16 digital channels. Easy connectivity via Ethernet and four USB 2.0 ports are built-in for access, control and data porting. Data can also be stored on SD cards. The ergonomic design features rotating and tilting feet for four different viewing positions. A built-in function generator can supply all commonly needed test signals, including the reproduction of stored signals. An external monitor or projector can be attached to a DB-15 connector — great for teaching situations.
Available in 100/200/350/500 MHz and 1 GHz versions, the WaveSurfer 3000z oscilloscope series includes built-in multi-instruments: protocol analyzer, serial and trigger decoder, signal generator, four-digit voltmeter and a five-digit frequency counter. This future-proof design has field-upgradeable bandwidth capabilities, too. Its fast waveform refresh rate (130,000 wfm/s), together with the built-in history mode, sequence mode and mask test capabilities make this a powerhouse of desktop test capability. The standard collection of math, measurement, debug and documentation tools provides unsurpassed analysis potential. Time-saving shortcuts and intuitive dialogs simplify setup, operation and speed up debug tasks.
•WaveScan Advanced Search: locate unusual single events
•Pass/Fail Mask Testing: quickly identify go/no go
•History Mode: view previous waveforms to find anomalies
•Powerful Triggering: analog/digital/serial decode, etc.
•Advanced Waveform Capture: save waveforms to segmented memory, fast pulses separated by long intervals
•Protocol Analysis: triggering and decoded data shown in interactive table
•Logic Analysis: view/measure analog and digital signals simultaneously
•Waveform Generator: sine/sq/pulse/ramp/triangle/noise plus saved waveforms
•Math: 20 functions
•LabNoteBook: documentation tool for quick report writing
•Other Tools: statistics, histicons, trends, etc.