New ultracapacitor modules from Siemens ensure machine operation during grid power outages, avoid peak loads and recover braking energy. The UltraCap DLC modules are ideal for use as energy storage devices in machines, such as those used in wood, glass and plastic processing, metal forming technology, machine tools, handling and robotics.
The modules have a nominal voltage of 95 V and are typically connected in series in order to attain the required voltage level. They are connected via a DC-DC chopper or directly to the DC link of the Sinamics drive system.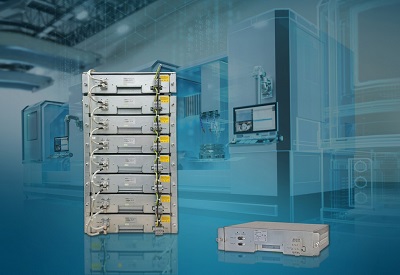 Source: SiemensMultiple series can be used in parallel in order to tailor performance and energy content to a specific application. The modules conform to CE and UL guidelines in both series and parallel switching. The rack housing features lateral ventilation slots and all connections are located on the front, enabling easy and space-saving installation in the control cabinet. An integrated processor monitors the ambient conditions and the state of the capacitor cells, and the values obtained can be called up via a bus interface, thus enabling continuous monitoring.
The ultracapacitor modules are part of Siemens' Smart Power Management (SPM) system for its Sinamics drive systems. They ensure that machines will continue to operate even with unreliable power supplies, and improve the availability and productivity of the machines while cutting installation and energy costs and carbon dioxide emissions. To meet varying user requirements, powerful electrolytic capacitors, flywheel storage units or battery systems can be used in addition to the DLC modules.