Consumer Electronics
An Ultracapacitor for Those Extreme Environment Applications
05 February 2018
Sponsored content
Powering electronics is a task often accomplished with a battery or power supply. Power must be reliable in all the environments a device is expected to operate. This is a particularly important issue in extreme environments — such as deep underground or near a furnace — where ordinary methods simply don't work.
Standard battery chemistries like alkaline struggle with very high and low temperatures. Alkaline batteries contain water that freezes or boils, as well as plastic parts that melt. Lithium batteries are a better choice for extreme environments, but they still have limitations. Lithium-thionyl chloride batteries are common for extreme temperatures. While these batteries have a high energy density, they lack the wattage required for many applications. To solve this current limitation, batteries are often wired in series or parallel — or in some combination of the two — with diminishing returns and more bulk as more batteries are added.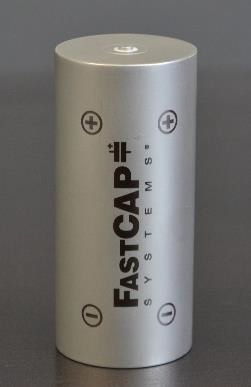 FastCap has created a unique ultracapacitor utilizing carbon nanotubes and a unique electrolyte that extends the temperature range beyond other capacitors, allowing for use in extreme environments. Source: FastCap SystemsUltracapacitors store energy in a different way than batteries do, which enables them to do things batteries simply can't. Capacitors are different from batteries because they have lower energy densities but can rapidly provide the power stored. Capacitors are also different from batteries in that they are quick to recharge. Ultracapacitors can store more power than a regular capacitor, which makes them ideal for some applications that traditionally use batteries.
Like batteries, not all capacitors are created equal. FastCap has created a unique ultracapacitor utilizing carbon nanotubes and a unique electrolyte that extends the temperature range beyond other capacitors, allowing for use in extreme environments. Originally this technology was developed for the oil and gas industry and is used in drill heads for communication, where extreme heat is commonplace. In this industry batteries cannot supply power in increasing temperatures, meaning that eventually operators were drilling blind. The FastCap ultracapacitor solved this issue and allows communication at deeper depths than an equivalent battery technology.
While originally developed for energy exploration, a power source that works from minus 40 to 100 degrees Celsius has many other applications. Propulsion technology is a good example where temperature extremes are experienced. Rocket and jet engines go through a range of extreme temperatures, where high temperatures of combustion require equipment that can keep up. Propulsion technology requires high reliability when a failure can cause a catastrophic event. For example, actuators that physically move surfaces to control the engine require significant power. In this application, a battery may not have the necessary current and weight is always an issue. The ultracapacitor has the ability to store power and provide the necessary current for the actuators, all while in a temperature range that competing technology can't operate in.
Ultracapacitors are an ideal solution when the power required is periodic pulses of high current. This type of requirement is also typical of many wireless, IoT and sensor devices that send back data in a burst. Data collection devices used in inhospitable environments — such as those used to measure geologic events or in a factory setting such as an oven or furnace — lend themselves well to the FastCap ultracapacitor. In these applications, the ultracapacitor can provide the power necessary to take a measurement and send it to the receiver or datalogger.
FastCap's extreme environment ultracapacitors are hermetically sealed and come in sizes that mimic standard size batteries like AA and D cell sizes. They provide power with voltages from 1 V, 1.5 V or 2 V, with stainless steel terminals. In addition to the extreme temperature range, the ultracapacitors are resistant to both shock and vibration, making them excellent for rugged and extreme power needs.
For more information, visit https://www.fastcapsystems.com/.
Find Free Electronics Datasheets