New Yorker Electronics has released the new Vishay Siliconix 30 V N-channel metal-oxide-semiconductor field-effect transistor (MOSFET) half-bridge power stage with integrated Schottky diode. This new device combines a high side TrenchFET MOSFET and low side SkyFET MOSFET with a monolithically integrated Schottky diode in one compact package.
Designed for power conversion in computing and telecom applications, the Vishay Siliconix SiZF300DT from New Yorker Electronics delivers increased power density and efficiency, while reducing component counts. This compact PowerPAIR 3.3 mm x 3.3 mm package is 65% smaller than typical 6 mm x 5 mm packages with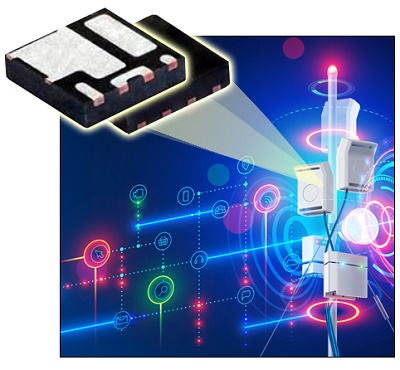 Source: New Yorker Electronicssimilar on-resistance for power conversion.
A unique pin configuration and construction delivers up to 11% higher output current per current phase than competing products in the same footprint area, in addition to higher efficiency for output current above 20 A. This pin configuration and large protective ground pad enhance thermal transfer, optimize the electrical path and enable a simplified PCB layout.
They are ideal for point-of-load (POL) conversion and power supplies, as well as synchronous buck and DC/DC converters for graphic and accelerator cards, computers, servers and telecom and radio frequency networking equipment. This series is designed for fast switching with a low gate charge of 6.9 nC (Channel 1) and 19.4 nC (Channel 2). The Vishay MOSFETs are 100% Rg- and UIS-tested, RoHS-compliant and halogen-free.