The Xiaomi Mi 10 Pro 5G is the latest 5G smartphone from the Chinese manufacturer and is the flagship device for the company seeking to compete against the likes of LG, Samsung and others in the market.
The outbreak of the COVID-19 pandemic has slowed the network deployment of 5G and the number of smartphones that were expected to come out this year supporting 5G has also declined. Many were expecting numerous phones to be introduced at this year's Mobile World Congress, but when it was cancelled the plans changed and new smartphones have only slowly emerged.
Despite most smartphone shops remaining closed due to the coronavirus, smartphone suppliers are starting to roll out phones to continue the proliferation of the technology in the market.
Xiaomi's Mi 10 Pro 5G features the Qualcomm Snapdragon 865 mobile processor and the Snapdragon X55 baseband processor, a primary camera with a 108 MP resolution and a secondary camera that is 20 MP.
Summary points
Qualcomm Snapdragon 865, Octa-Core, 2.84 GHz, SM8250
6.67 in diagonal, flexible AMOLED, 2340 x 1080 w/on-cell touch
256 GB UFS NAND, 8 GB LPDDR5
Quad 108 MP (OIS) + 20MP (ultra-wide) + 12 MP + 8 MP (OIS) primary camera
20 MP (wide) secondary camera
Target market: Mass market
Released: February 2020
Pricing: $704.22
Availability: Worldwide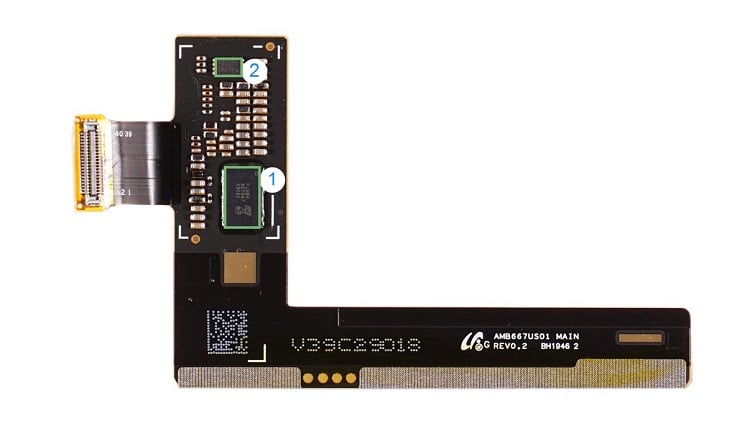 The touchscreen module inside the Xiaomi Mi 10 Pro 5G smartphone. Source: Omdia
Touchscreen module
1. ST Microelectronics, FJABH, touchscreen controller, capacitive
2. Winbond Electronics Corp., W25Q40EWUXIE, flash, NOR, 4 Mb, 104 MHz, SPI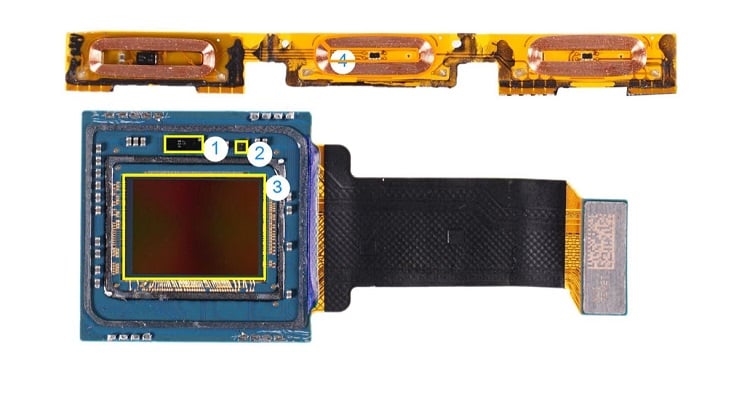 The primary camera module and components inside the Xiaomi Mi 10 Pro 5G phone. Source: Omdia
Primary camera module
1. Dongwoon Anatech, DW9800W, voice coil motor driver IC, 10-bit DAC, 100 mA, output current sinking capability
2. Giantec Semiconductor Inc., EEPROM
3. Sony Corp., IMX350, image sensor, 20 MP, stacked BSI CMOS (Exmor RS), 8 in format, 1.0 um x 1.0 um pixel size, 5.18 mm x 3.88 mm active image area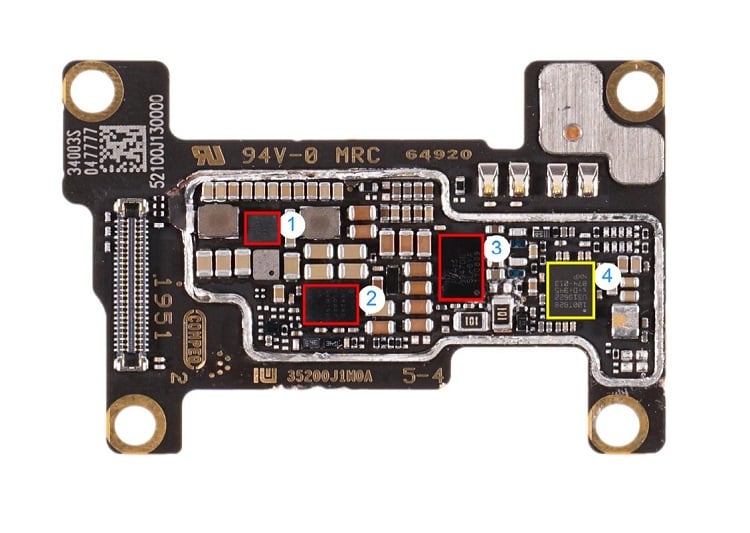 The interface printed circuit board that is inside the Xiaomi Mi 10 Pro 5G smartphone. Source: Omdia
Interface PCB
1. Samsung Semiconductor Inc., S2D0S15, power management IC
2. Lion Semiconductor, LN8282, wireless charging IC, 30 W
3. Renesas Electronics Corp., P9415, wireless charging transceiver, WPC Qi 1.2.4 compatible, 30 W, w/integrated 32 bit ARM Cortex-M0 processor
4. NXP Semiconductors, SN100T, NFC controller, w/secure element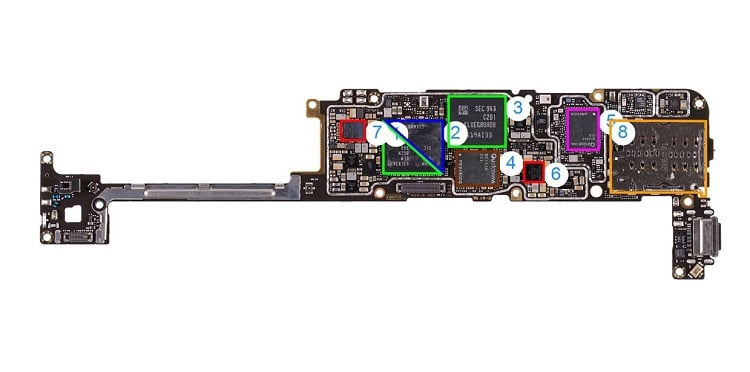 The main printed circuit board inside the Xiaomi Mi 10 Pro 5G smartphone. Source: Omdia
Main PCB
1. Samsung Semiconductor Inc., K3LK3K30EM-BGCN, SDRAM, LPDDR5, 8 GB, PoP
2. Qualcomm, SM8250, apps processor, Snapdragon 865, Octa-core 64 bit Kryo 585 CPU, single-core 2.84 GHz + triple-core 2.42 GHz + quad-core 1.8 GJz, Adreno 650 GPU, 7 nm, FinFET, PoP
3. Samsung Semiconductor Inc., KLUEG8UHDB-C2D1, flash, UFS NAND, 256 GB
4. Qualcomm SDX55M, baseband processor, Snapdragon X55, 5G multi-mode, multi-band, GSM/EDGE/WCDMA/TD-SCDMA/LTE/5G NR (mmWave/sub-6 GHz), FDD/TDD/SA/NSA, w/integrated SDRAM — MFR: Qualcomm (Qty: 1)
5. Qualcomm SDR865, RF transceiver, multi-mode, multi-band, GSM/EDGE/WCDMA/LTE/5G NR, GPS/GLONASS/BEIDOU
6. Qualcomm, PMX55, power management IC
7. Qualcomm, PM8150A, power management IC
8. Shenzhen Linkconn Electronics Co Ltd, Nano SIM card, 2-in-2, 12 gold plated contacts, w/metal housing
Major components
$70.87 — Primary camera module, quad, 20 MP ultra-wide + 108 MP + 12 MP + 8 MP, BSI CMOS, auto focus lens, dual optical image stabilization (108 MP + 8 MP), 6P lens (20 MP) + 8P lens (108 MP) + 6P lens (12 MP) + 5P lens (8 MP) (Qty: 1)
$63.50 — 6.67 in diagonal, AMOLED, LTPS, 2340 x 1080, on-cell touch (Y-OCTA), flexible display, hole display (1 thru hole), pentile matrix, 90Hz — MFR: Samsung Display Co Ltd (Qty: 1)
$54.01 — Apps processor, Snapdragon 865, octa-core 64-bit Kryo 585 CPU, single-core 2.84 GHz + triple-core 2.42 GHz + quad-core 1.8 GHz, Adreno 650 GPU, 7 nm FinFET, PoP — MFR: Qualcomm (Qty: 1)
$31.00 — Flash, UFS NAND, 256 GB — MFR: Samsung Semiconductor Inc (Qty: 1)
$27.00 — SDRAM, LPDDR5, 8 GB, PoP — MFR: Samsung Semiconductor Inc (Qty: 1)
$25.28 — Baseband processor, Snapdragon X55, 5G multi-mode, multi-band, GSM/EDGE/WCDMA/TD-SCDMA/LTE/5G NR (mmWave/sub-6GHz), FDD/TDD/SA/NSA, w/integrated SDRAM — MFR: Qualcomm (Qty: 1)
$19.36 — Enclosure, main, midframe, machined aluminum alloy, anodized, w/injection molded plastic, and three-pieces stamped/formed stainless steel and 27 spot-welded points, and one gold plated stamped/formed metal contact and 11 spot-welded points and nine gold plated contacts and 180 spot-welded points, w/21 metal taps (Qty: 1)
$17.74 — RF transceiver, multi-mode, multi-band, GSM/EDGE/WCDMA/LTE/5G NR, GPS/GLONASS/BEIDOU —MFR: Qualcomm (Qty: 1)
$8.34 — 10-layer, FR4/RCF HDI, any layer stacked via, lead-free — MFR: Compeq Manufacturing Co Ltd (Qty: 1)
$8.30 — Charger, 5 V/9 V/12 V/20 V, 3 A/3 A/6 A max/3.25 A max, AC to USB type A, w/protect film (Qty: 1)