5G, the next generation wireless communication standard, was introduced about a year ago and with it came several new smartphones to support the technology.
The market for 5G was supposed to take off this year after laying the groundwork for the network expansion in 2019 and with it several new smartphones after only a few were introduced the prior year. However, due to the outbreak of the coronavirus pandemic, many of the rollouts have been postponed or are being rolled out at a slower pace.
Oppo introduced the Reno 3 Pro 5G in December of 2019 as a new flagship for the Chinese smartphone operator. However, just a few short months later, it introduced its X2 Pro 5G as its new flagship with the new Snapdragon 865 mobile processor.
Given the state of the world, it is hard to imagine the smartphone market having a boom with shops closed and people sheltering in place, but when those days are over, Oppo will be in a position to offer a variety of smartphones to consumers.
This teardown for the Oppo Reno 3 Pro 5G includes a breakdown of the major components found in the smartphone, including the first midrange 5G chipset from Qualcomm and the Snapdragon 765 apps/baseband mobile processor.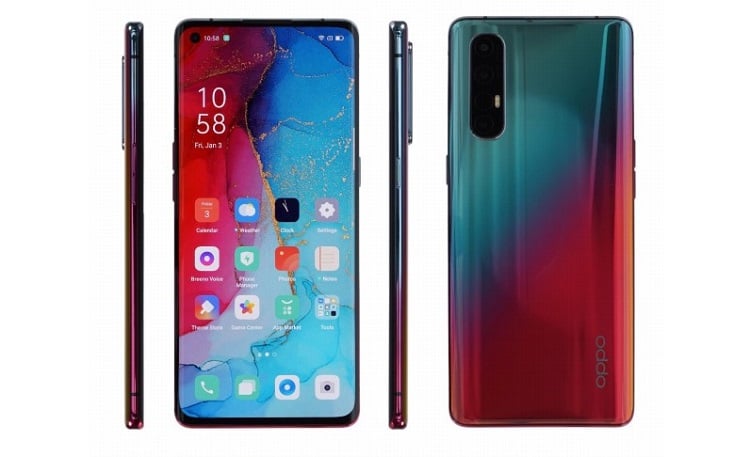 The Oppo Reno 3 Pro 5G features a midrange 5G chipset and Qualcomm Snapdragon 765 mobile processor. Source: Omdia
Summary points
First midrange 5G chipset from Qualcomm
6.55 in diagonal, flexible AMOLED, 2,400 x 1,080 w/on-cell touch
128 GB UFS NAND, 8 GB LPDDR4
Quad 48 MP (wide) + 13 MP (tele) + 8 MP (ultra-wide) + 2 MP primary camera
32 M FF secondary camera
Target market: Mass market
Released: December 2019
Pricing: $568.13
Availability: Worldwide
Total manufacturing costs: $298.41

The touchscreen module of the Oppo Reno 3 Pro 5G. Source: Omdia
Touchscreen module
1. Samsung Semiconductor Inc., S6SY771X, touchscreen controller, capacitive
2. Winbond Electronics Corp., W25Q64FWZPIG, flash, NOR, 64 Mb, SPI
3. Memory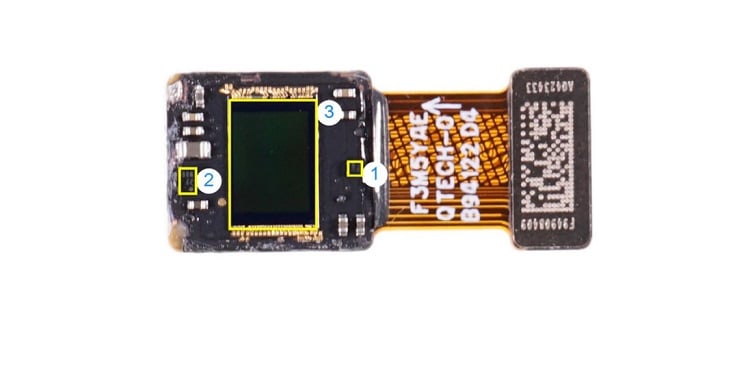 The primary camera module of the Oppo Reno Pro 5G. Source: Omdia
Primary camera module
1. EEPROM
2. Rohm Co. Ltd., BU64253GWZ, voice coil motor driver IC
3. Samsung Semiconductor Inc., S5K3M5 image sensor, 13 MP, ISOCELL CMOS, 1/3/4 in format 1.0 um x 1.0 um pixel size, 4.2 mm x 3.1 mm active image area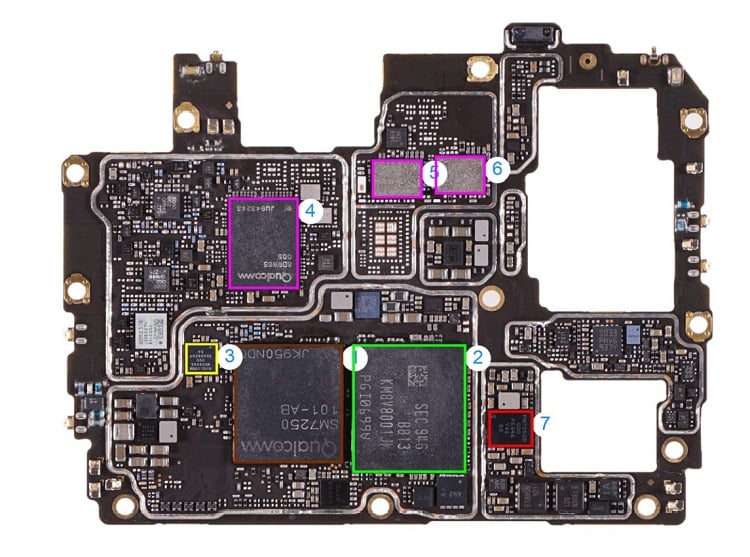 The main PCB and major components of the Oppo Reno 3 Pro 5G. Source: Omdia
Main PCB
1. Qualcomm, SM7250, apps/baseband processor, multi-mode, Snapdragon 765 5G system-on-chip, octa-core 64 bit Kyro 475 CPU, quad-core 2.40 GHz+ dual-core 2.21 GHz + dual-core 1.80 Ghz, Adreno 620 GPU, 7 nm
2. Samsung Semiconductor Inc., KM8V8001JM-B813, MCP, 128 GB UFS NAND + 8 GB LPDDR4X
3. Qualcomm, WCD0385, audio codec
4. Qualcomm, SDR865, RF transceiver, multi-mode, multi-band, GSM/EDGE/WCDMA/LTE/5G NR, GPS/GLONASS/BEIDOU
5. Qualcomm, SDR865, transit module, PAM, multi-band, 5G NR n41, contains Qualcomm RF switch and PA and LNA w/ BAW filters
6. Qualcomm, QPM5677, transmit module, multi-band, 5G NR n77/n78, contains Qualcomm RF switch and PA and LNA, w/ BAW filters
7. Qualcomm, PM7250B, power management IC
Major components:
$64.00 — 6.55 in diagonal, AMOLED, LTPS, 2,400 x 1,080, on-cell touch (Y-OCTA), flexible display, hole display (1 thru hole), pentile matrix, 90 Hz — MFR: Samsung Display Co LTD (Qty: 1)
$39.50 — MCP, 128 GB UFS NAND + 8 GB LPDDR4X — MFR: Samsung Semiconductor Inc (Qty: 1)
$39.45 — Apps/baseband processor, multi-mode, Snapdragon 765 5G SoC, Octa-Core 64 bit Kryo 475 CPU, quad-core 2.40 GHz + dual-core 2.21 GHz + dual-core 1.80 GHz, Adreno 620 GPU, 7 nm — MFR: Qualcomm (Qty: 1)
$29.50 — Primary camera module, quad, 48 MP wide + 13 MP telephoto + 8 MP ultra-wide + 2 MP, BSI CMOS, auto focused lens, optical image stabilization (48 MP), 6P lens (48 MP) + 5P lens (13 MP) + 5P
Lens (8 MP) + 3P lens (2 MP) (Qty: 1)
$17.42 — Enclosure, main, midframe, machined aluminum, anodized, painted, w/injection molded plastic, w/15 gold plated contacts and 192 spot-welded points, w/19 metal taps (Qty: 1)
$14.20 — RF transceiver, multi-mode, multi-band, GSM/EDGE/WCDMA/LTE/5G NR, GPS/GLONASS/BEIDOU — MFR: Qualcomm (Qty: 1)
$7.20 — Secondary camera module, 32 MP, BSI CMOS, fixed lens, 5P lens — MFR: Q Technology (Group) Company Limited (Qty: 1)
$5.76 — Enclosure, main, bottom cover, 3D curved tempered glass, single hole, w/multi-color film (Qty: 1)
$5.06 — Fingerprint sensor module, optical in-display (Qty: 1)
$4.74 — Battery pack, Li-polymer, 1-cell, 3.87 V, 3935 mAh, 15.22 Wh, w/flex PCB and board to board connector (Qty: 1)