The outbreak of COVID-19 has put a damper on what was expected to be a big year for 5G technology.
After laying the groundwork for rolling out the next generation wireless technology in 2019, it was expected that this year the technology would reach more people and new smartphones would be introduced.
In the first quarter of 2020, Samsung led the market for 5G smartphone shipments. It aims to continue its leadership position in the market with the introduction of the Galaxy S20 Ultra 5G smartphone, its next generation flagship device for the high-end market.
The Samsung Galaxy S20 Ultra 5G smartphone includes the new Qualcomm Snapdragon 865 mobile processor and the Kyro CPU. This teardown offers a look at the inner workings of the S20 Ultra 5G, its main components and features.
Summary points
mmWave 5G smartphone, Qualcomm Snapdragon 865, SM8250
12 GB LPDDR5 SDRAM, 128 GB UFS NAND
6.87 in AMOLED, on cell touch, fingerprint-on-display
Quadruple (108MP AF + 48MP AF + 12MP FF + ToF) primary camera
40 MP AF secondary camera
Target market: Mass market
Released: March 2020
Pricing: $1,399
Availability: Worldwide
Total manufacturing costs: $509.81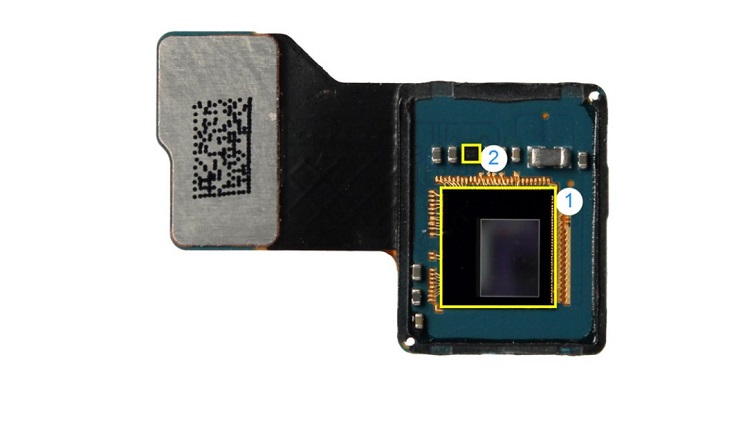 The DepthVision camera component inside the Samsung Galaxy S20 5G Pro. Source: Omdia
DepthVision camera module
1. Sony Corp., image sensor, VGA, 3D depth sensing, for time-of-flight camera
2. ST Microelectronics, EEPROM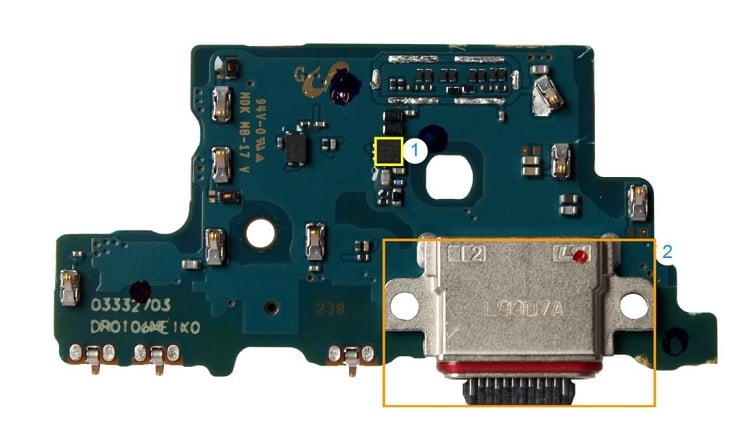 The interface PCB as part of the Samsung Galaxy S20 5G Pro. Source: Omdia
Interface/RF PCB
1. Qorvo Inc, QM78092, transmit module, PAM, multi-mode, mid and high band, contains Qorvo RF switches and PAs and analog ICs w/duplexers and BAW filters
2. Qualcomm, QET5100, power management IC, envelope tracking
3. Qualcomm, QPM6585, transmit module, PAM, 5G NR n41 contains Qualcomm RF switch and PA and LNA w/BAW fitler
4. Skyworks Solutions Inc., SKY 58210-11, transmit module, PAM, multi-mode, low band, contains Skyworks RF switches and PA and LNA w/duplexers
5. Skyworks Solutions Inc., SKY77365-11, PAM, quad-band, GSM/GPRS/EDGE, 850/900/1800/1900
6. Qualcomm, QDM4850, FEM, ultra-high band, contains Qualcomm LNA w/BAW filter
7. Samsung Semiconductor Inc., S2MIW04, wireless power receiver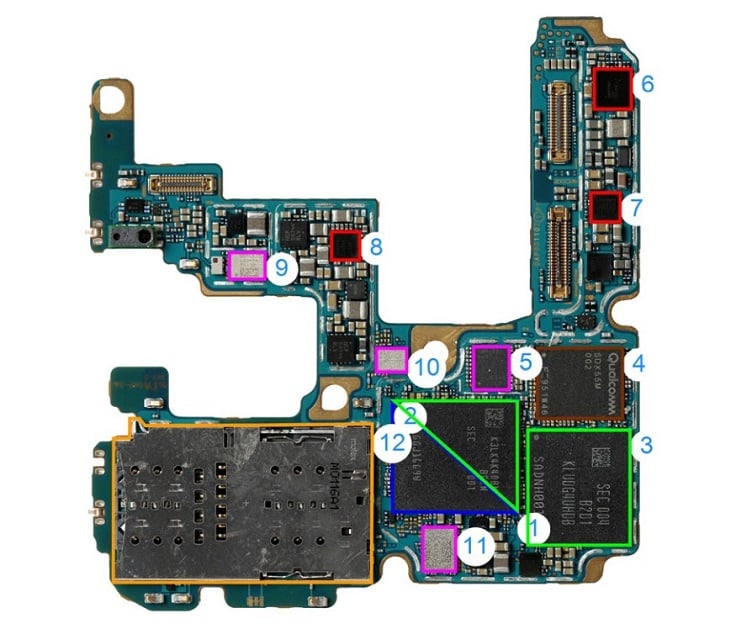 The main PCB board inside the Samsung S20 5G Pro. Source: Omdia
Main PCB
1. Qualcomm, SM8250, apps processor, Snapdragon, 865, octa-core, 64 bit Kyro 585 CPU, single-core 2.84 GHz + triple-core 2.42 GHz + quad-core 1.8 GHz, Adreno 650 GPU, 7 nm FinFET, PoP
2. Samsung Semiconductor Inc., K3LK4K40BM-BGCN, SDRAM, LPDDR5-5500, 12 GB, PoP
3. Samsung Semiconductor Inc., KLUDG4UHDB-B2D1, flash, UFS NAND, 128 GB
4. Qualcomm, SDX55M, baseband processor, Snapdragon X55, 5G multi-mode, multi-band, GSM/EDGE/WCDMA/TD-SCDMA/LTE/5G NR (mmWave/Sub 6GHz), FDD/TDD/SA/NSA
5. Qualcomm, SMR526, RF/IF IC
6. Maxim Integrated Products Inc., MAX77705, power management IC
7. NXP Semiconductor Inc., PCA9468UKZ, battery charger
8. Samsung Semiconductor Inc., S2MPB02, power management IC
9. Qualcomm, QDM4820, FEM, low band, contains Qualcomm RF switch and LNA w/SAW filters
10. Qualcomm, QDM5872, FEM, 5G, NR (mid and high band), contains Qualcomm RF switch and LNA w/SAW filters
11. Qualcomm, QPM567, transmit module, PAM, 5G NR n77/n78, contains Qualcomm RF switch and PA and LNA w/bandpass filter
12. Molex Inc., nano-SIM card/micro SD memory card combo, 3-in-2, 2-nano SIM card/1 micro SD memory card, 20 gold plated contacts in plastic carrier w/metal shielding
Major components
$75.00 — 6.87 in diagonal, AMOLED, LTPS, 3200 x 1440, on-cell touch (Y-OCTA), flexible display and hole display, pentile matrix, 120 Hz, w/fingerprint sensor module (ultrasonic) — MFR: Samsung Display Co Ltd (Qty: 1)
$54.01 — Apps processor, Snapdragon 865, octa-core 64 Bit Kryo 585 CPU, single-core 2.84 GHz + triple-core 2.42 GHz + quad-core 1.8 GHz, Adreno 650 GPU, 7 nm FinFET, PoP — MFR: Qualcomm (Qty: 1)
$48.20 — Primary camera module A, 108 MP, ISOCELL CMOS, 1/1.33 in format, auto focus lens, optical image stabilizer, 7P Lens (Qty: 1)
$40.60 — SDRAM, LPDDR5-5500, 12 GB, PoP — MFR: Samsung Semiconductor Inc (Qty: 1)
$25.92 — Baseband processor, Snapdragon X55, 5G multi-mode, multi-band, GSM/EDGE/WCDMA/TD-SCDMA/LTE/5G NR (mmWave/Sub-6GHz), FDD/TDD/SA/NSA, w/integrated SDRAM — MFR: Qualcomm (Qty: 1)
$25.15 — Enclosure, main, midframe, machined aluminum alloy, anodized, glossy, w/injection molded glass filled PBT, w/18 gold plated contacts and 140 spot-welded points, w/2 threaded metal standoffs & 21 metal taps (Qty: 1)
$19.85 — Primary camera module B, periscope telephoto (x10 optical ZOOM), 48 MP, BSI CMOS, 1/2 in format, auto focus lens, 5P lens (Qty: 1)
$18.00 — Flash, UFS NAND, 128 GB — MFR: Samsung Semiconductor Inc (Qty: 1)
$17.74 — RF transceiver, multi-mode, multi-band, GSM/EDGE/WCDMA/LTE/5G NR, GPS/GLONASS/BEIDOU — MFR: Qualcomm (Qty: 1)
$16.01 — mmWave antenna module, contains two Qualcomm RF ICs, 5G NR n257/n258/n260/n261, w/multilayer package substrate antenna array, 1 board to board plug— MFR: Qualcomm (Qty: 1)