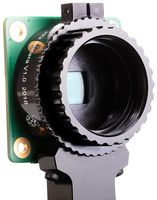 The new Raspberry Pi camera. Source: NewarkNewark, an Avnet company, has launched a Raspberry Pi camera with 12-megapixel ultra-HD resolution and interchangeable lenses.
Newark claims the Raspberry Pi camera is the first-of-its-kind to hit the market and can be used for both professional users, consumer applications and makers.
The camera is compatible with all models of Raspberry Pi boards from the Raspberry Pi 1 Model B onwards and can be used as a desktop camera. The camera can be suitable for a wide range of applications such as machine vision, robotics, industrial and agriculture. It can also be used for home and professional security systems that operate in low ambient light conditions. Additionally, the camera can be programmed to collect data for facial and number plate recognition and parking space monitoring.
The Raspberry Pi camera features a circuit board with the Sony IMX477 sensor, an FPC cable for connection to a Raspberry Pi computer, a milled aluminum lens mount with integrated tripod mount and focus adjustment ring. Two interchangeable lenses feature a 6 mm wide angle lens and a 16 mm telephoto lens for autofocus.