Mouser Electronics, Inc., is now stocking the ICM-20789 from InvenSense. The ICM-20789 is the industry's first 7-axis inertial and barometric pressure sensor. It combines a 3-axis gyroscope, 3-axis accelerometer, Digital Motion Processor™ (DMP), with an ultra-low-noise MEMS capacitive barometric pressure sensor in a tiny 4×4 mm package.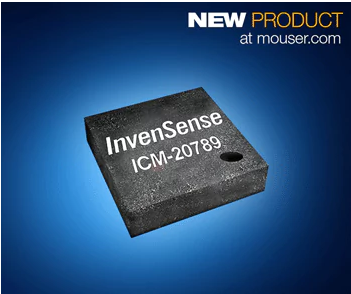 The ICM-20789 (Source: Mouser)
The InvenSense ICM-20789 integrates TDK's latest 6-axis motion sensor to offer tracking of rotational and linear motion and it simplifies the fusing of sensor signals. The gyroscope has a programmable full-scale range (FSR) of ±250 degrees per second (dps) to ±2000 dps. The accelerometer FSR is programmable to ±2 g through ±16 g.
The MEMS capacitive pressure sensor achieves low-pressure noise of 0.4 Pa RMS and low power consumption of 1.3 µA at 1 Hz. The MEMS capacitive pressure sensor is capable of measuring and detecting altitude changes of less than 5 cm. The sensor offers a full pressure operating range of 30 to 110 kPa, and ensures temperature stability.
For evaluation, the sensor is supported by the DK-20789 SmartMotion® Platform Development Kit. The kit is based on a Microchip G55 microcontroller and comes with necessary software. The kit's embedded Motion Drivers (eMD) configure parameters such as FSR, output data rate (ODR), low-power or low-noise mode, and sensor interface to host (I²C, SPI). The DK-20789 includes an onboard embedded debugger, which eliminates the need for external tools to program or debug the G55 microcontroller.
The ICM-20789 reduces design costs and provides full motion sensing through the fusing of sensors in a wide range of applications, including activity monitoring, gesture recognition, stair counting, wearables, altitude-hold in drones and indoor/outdoor navigation.
To learn more, visit the site here.