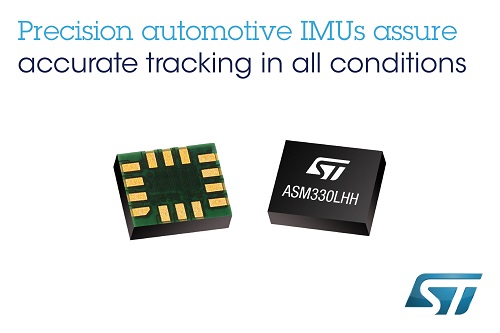 The ASM330LHH six-axis inertial sensor. Source: STMicroelectronics
STMicroelectronics has introduced an automotive-grade microelectromechanical systems (MEMS) sensor for high-resolution motion tracking for vehicle navigation and telematics applications.
The ASM330LHH six-axis inertial sensor lets dead-reckoning algorithms calculate precision position from sensor data if satellite signals get blocked, which may happen when driving through canyons, tunnels, covered roadways, parking garages or forests. While the low-noise, temperature-stable design allows for dependable telematics services such as e-tolling, tele-diagnostics and e-call assistance.
The MEMS device is built using ST's thick epitaxy layer for micro-gyroscopes and accelerometers (ThELMA) micro-machining process that combines thick and thin polysilicon layers for structures and interconnections. The MEMS process technology enables integration of both a three-axis accelerometer and a three-axis angular rate gyroscope on the same silicon.
ST said that Magneti Marelli has selected the ASM330LHH MEMS device for its telematics systems to be fitted as original equipment by global automotive groups in upcoming vehicles.
The MEMS sensor features a temperature range of up to 105 degrees Celsius, low noise for greater measurement resolution, built-in temperature compensation to eliminate the need for external compensation algorithms over its operating range, low power consumption to minimize battery usage and is AEC-Q100 qualified.
Samples will be available in the third quarter of this year with production slated to begin the following quarter.