A new type of droplet-based electricity generator (DEG) developed at City University of Hong Kong (CityU) may greatly advance the study of water energy generation, according to the developers.
Compared to other DEGs, the CityU generator allows for significantly higher energy-conversion efficiency and its instantaneous power density can reach thousands of times higher ̶ up to 50.1 W/m2 ̶ thanks to the incorporation of a type of FET (field-effect transistor) design.
With a conventional DEG, when a droplet of water hits a surface the triboelectric effect accounts for electricity generation by contact electrification and electrostatic induction, but the amount of charge generated is limited and the resulting energy conversion is low. To resolve this, the team used an aluminum electrode and an indium tin oxide (ITO) electrode with a polytetrafluoroethylene (PTFE) film deposited on it. Water droplets continuously hit and spread on the PTFE/ITO electrode, which is responsible for the charge generation, storage and induction, and "bridge" the aluminum electrode to create a closed-loop circuit.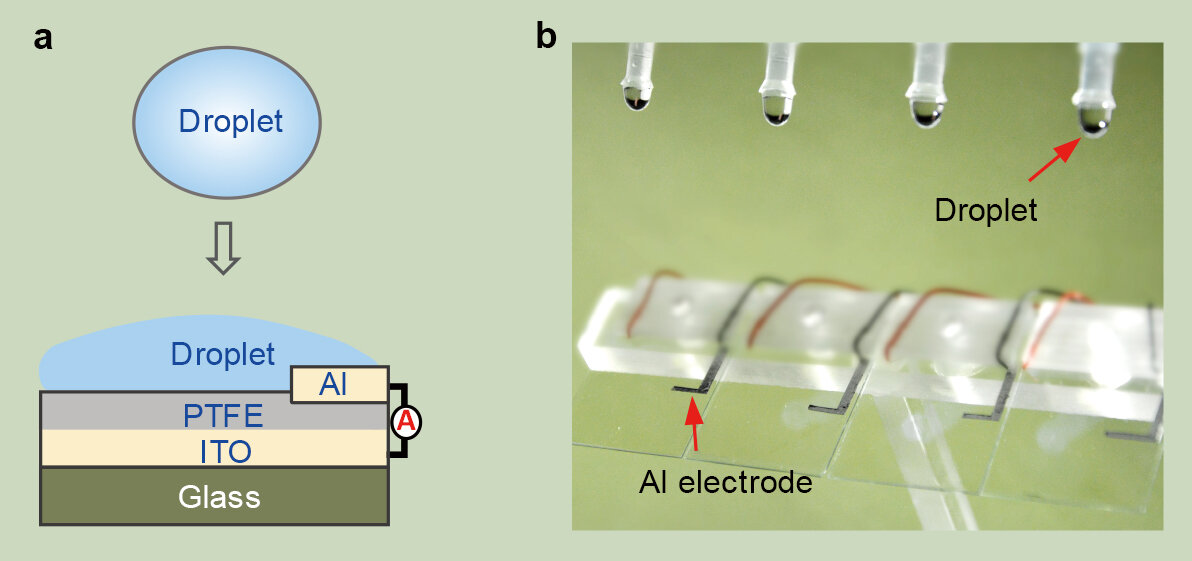 With the new droplet-based energy generator, a drop of water released from a height of 15 cm can generate a voltage of over 140V, lighting up 100 small LED bulbs.Source: City University of Hong Kong / NatureThe new design accumulates a high-density surface charge through continuous water droplet impinging. When the spreading water connects the two electrodes all the stored charges on the PTFE can be fully released to generate electric current.
"Our research shows that a drop of 100 microlitres [1 microlitre = one-millionth litre] of water released from a height of 15 cm can generate a voltage of over 140V, and the power generated can light up 100 small LED lights," said Wang Zuankai from CityU's department of mechanical engineering. His hope is that this research will help in harvesting water energy to resolve the global renewable energy shortage. Future applications might include surfaces where a liquid and a solid are in contact, such as the hull of a ferry, an umbrella or the inside of a water bottle.
The findings have been published in the journal Nature.