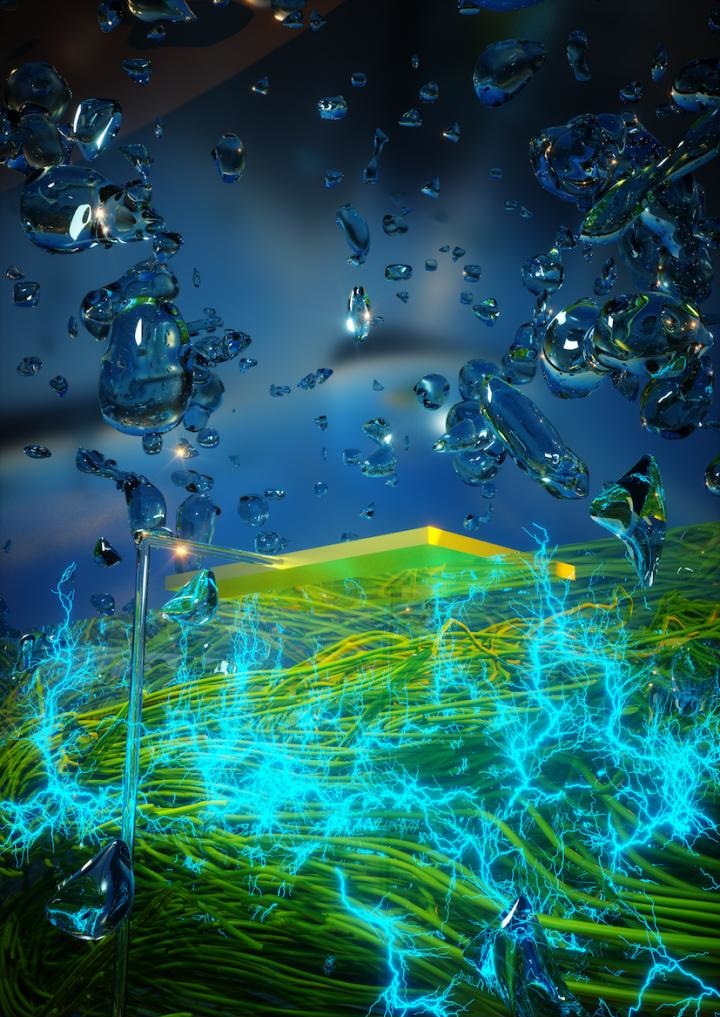 Graphic image of a thin film of protein nanowires generating electricity from atmospheric humidity. UMass Amherst researchers say the device can literally make electricity out of thin air. Source: UMass Amherst/Yao and Lovley labsResearchers from the University of Massachusetts Amherst created a device that uses natural proteins to create electricity from the moisture in the air. The device is called "Air-gen", which stands for air-powered generator. The device is made of electrically conductive protein nanowires that are produced by Geobacter, a type of bacteria.
Air-gen connects electrodes to protein nanowires in a way that allows an electrical current to be generated from natural water vapor in the atmosphere. The device generates clean energy no matter what time of day it is, even in low humidity areas. It is non-polluting, renewable and low-cost. It also doesn't require sunlight or wind and can work indoors.
The device is made of a thin film of protein nanowires less than 10 microns thick. The bottom of the film rests on an electrode and a smaller electrode covers only part of the nanowire on the top. The film absorbs water vapor from the atmosphere. The electrical conductivity and surface chemistry of the protein nanowires with fine pores between the nanowires in the film create the conditions to generate an electrical current.
The device can power small electronics. The team plans to create an Air-gen patch that can power electronic wearables. This eliminates the requirement for traditional batteries. The team hopes to develop Air-gens that can charge phones to eliminate periodic charging. The ultimate goal is to create large-scale systems, like sensors incorporated into wall paint to power a house.
A paper on this technology was published in Nature.