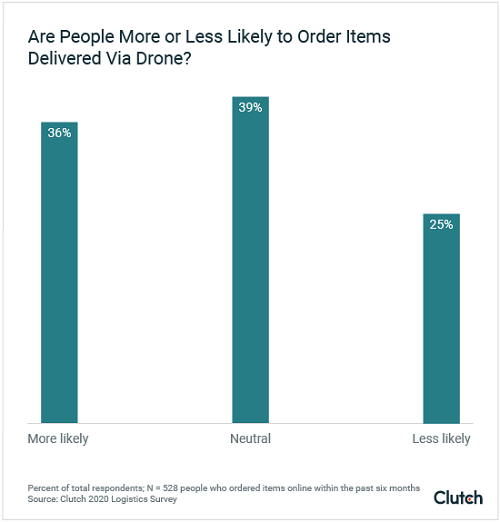 While the majority of people are neutral about drone delivery, more are excited than fearful. Source: ClutchDrone delivery is expanding rapidly with multiple big-name companies developing systems in order to facilitate the technology.
Technology giants including Amazon and Google as well as delivery heavyweights FedEx, DHL and UPS are getting in on drone delivery in order to get packages and medical supplies to customers faster, thereby lowering the cost of deliveries and, eventually, lowering the amount of carbon emissions that are generated by multiple trucks roaming worldwide.
But how do consumers feel about their medicine, packages and food being delivered through the air?
According to a new survey from Clutch, about one-third of those surveyed responded positively to the idea of having goods delivered via drone. Another 40% of those surveyed were neutral to the idea and only 25% would not want drones delivering to their home.
The company surveyed 528 online shoppers to gauge their opinion on drone delivery and 33% said they thought it would be faster and 21% said they thought it would be cheaper than other shipping methods. About 20% of those surveyed were worried about packages getting damaged during delivery or something happening to the drone along the route — such as being stolen or hacked.
"Drones will offer a higher-end…option for deliveries," said Millie Radovic, market analyst at Drone Industry Insights. "Drones will improve those delivery times further, bypassing traffic congestion or queues of deliveries."
But how quickly a drone can deliver items may be dependent upon factors such as:
The airspace they are legally allowed to fly through
Bad weather
Location of the warehouses they are flying from
Weather may have a profound impact on drone delivery, according to Dan Khasis, founder and CEO of Route4Me. "On a perfectly sunny day with no wind in the middle of nowhere, there's certainly many benefits," Khasis said.
However, that might change if weather is bad and a better choice may be trucks or planes. As far as price goes, drone delivery may cost higher for most items because the technology right now is in its infancy and the infrastructure is not in place to accommodate large-scale items or many items each day. So right now, it is an investment rather than a savings for either the consumer or the company. In the future, when multiple drones are being used by companies across the world and the infrastructure is in place to accommodate these deliveries, the cost will be driven down, Radovic said. Clutch said drones are still unknown for the most part to online shoppers and while one-third of shoppers are excited about them, another 19% are anxious about them. As companies continue to develop their drone programs, however, consumer opinion may change.
Learn more about these findings with Clutch's Drone Delivery: Benefits and Challenges report.