From a self-contained indoor garden to a device that preps ingredients, cooks the meal and cleans itself, smart appliances feature prominently at CES 2020, being held Jan. 7-10 in Las Vegas. Here is a taste of what is on display this year.
LG Electronics
LG InstaView ThinQ Range with Air Fry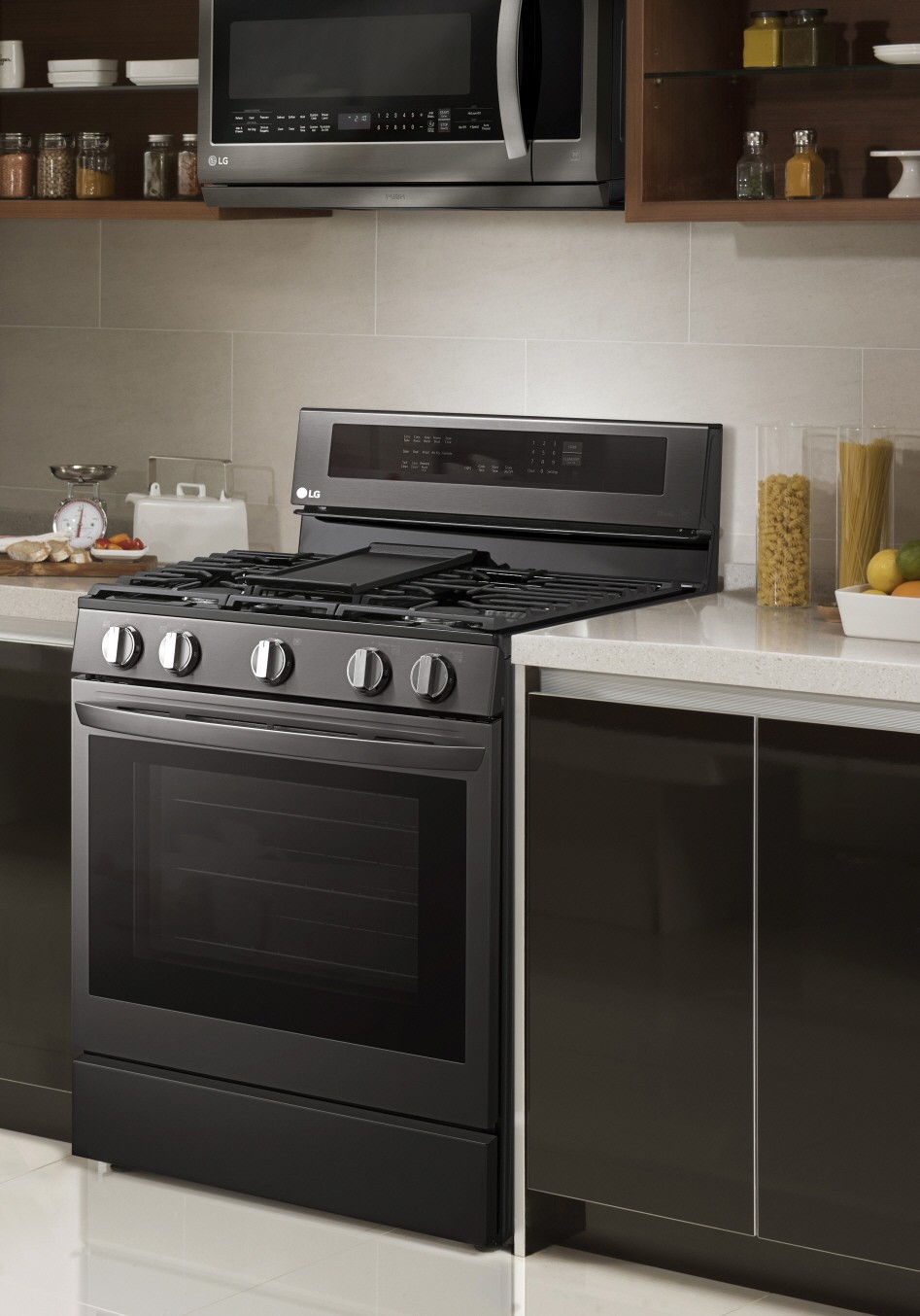 LG range with air fry. Source: LG ElectronicsThe LG ThinQ app provides home cooks with access to hundreds of thousands of recipes and sends step-by-step cooking instructions from a smartphone directly to the oven. In this way, cooking mode and temperature are set automatically. LG's AI Proactive Customer Care offers support and alerts users about any problems. The range can be controlled and monitored from anywhere in the house through Google Assistant and Amazon Alexa smart speakers. The InstaView technology turns on the interior light when the user knocks twice on the oven's glass window. An air fry feature incorporated into the oven eliminates the need for a separate appliance to perfectly "fry" food without oil.
LG indoor vegetable cultivator
This handy appliance can give anyone a year-round green thumb. By matching the temperature inside the insulated cabinet with the time of day, it replicates optimal outdoor conditions indoors. Seeds grow quickly into healthy, home-grown produce with LED lights, forced air circulation and wick-based water management. Water is evenly distributed in the correct amount in a hygienic environment in a way that prevents algae growth and unpleasant odors. A smartphone app aids users in managing and monitoring plants while offering guidance for a successful harvest. All-in-one seed packages contain peat moss and fertilizer to simplify immediate planting.
LG ThinQ front-loading washer with AI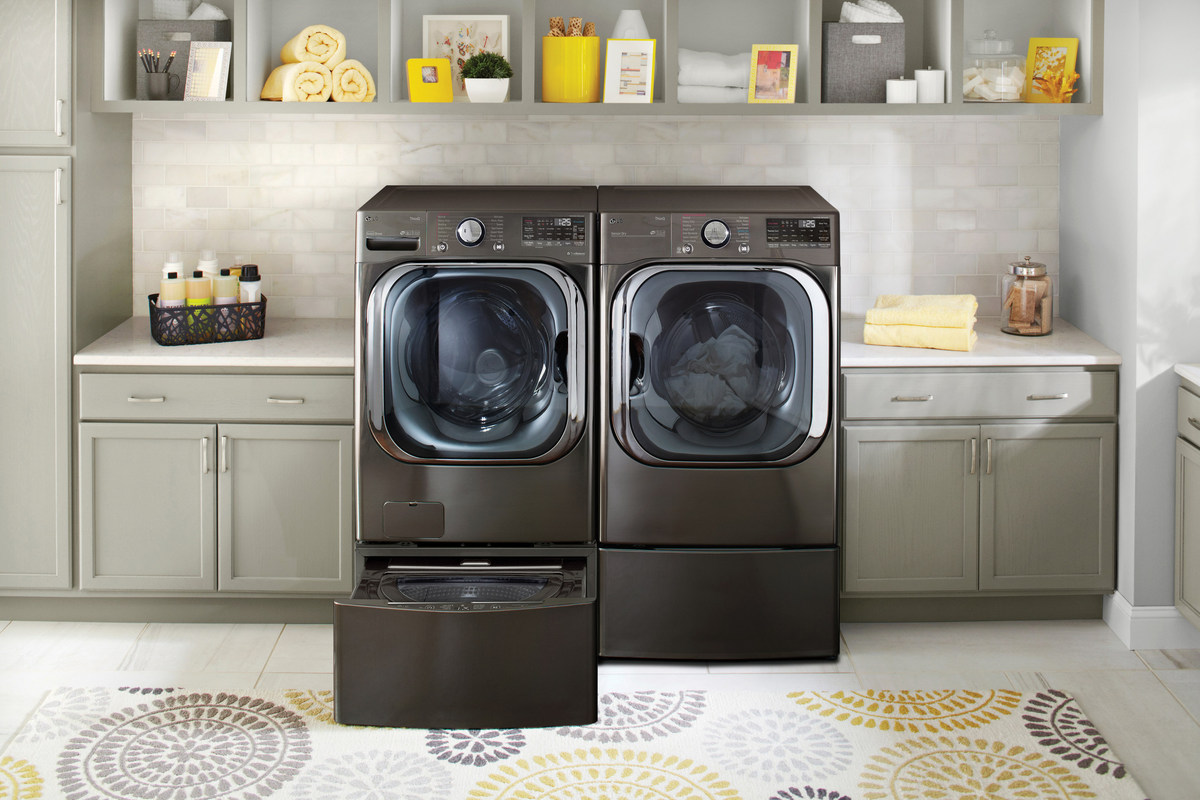 LG ThinQ AI-powered washer. Source: LG Electronics
LG's ThinQ washer features an artificially intelligent direct drive (AI DD) motor with LG's AI Proactive Customer Care service. The washer not only detects the volume and weight of each unique laundry load, but it also uses AI and advanced sensors to identify fabric types as well as deep learning technology to compare that information against more than 20,000 data points related to washer usage. It then programs the optimal wash cycle setting for the best cleaning results while extending the life of garments by a reported 15%. The ezDispense feature automatically adds the right amount of liquid detergent and fabric softener to each load based on what it contains.
Sharp
IoT Microwave Drawer Oven with Easy Wave Open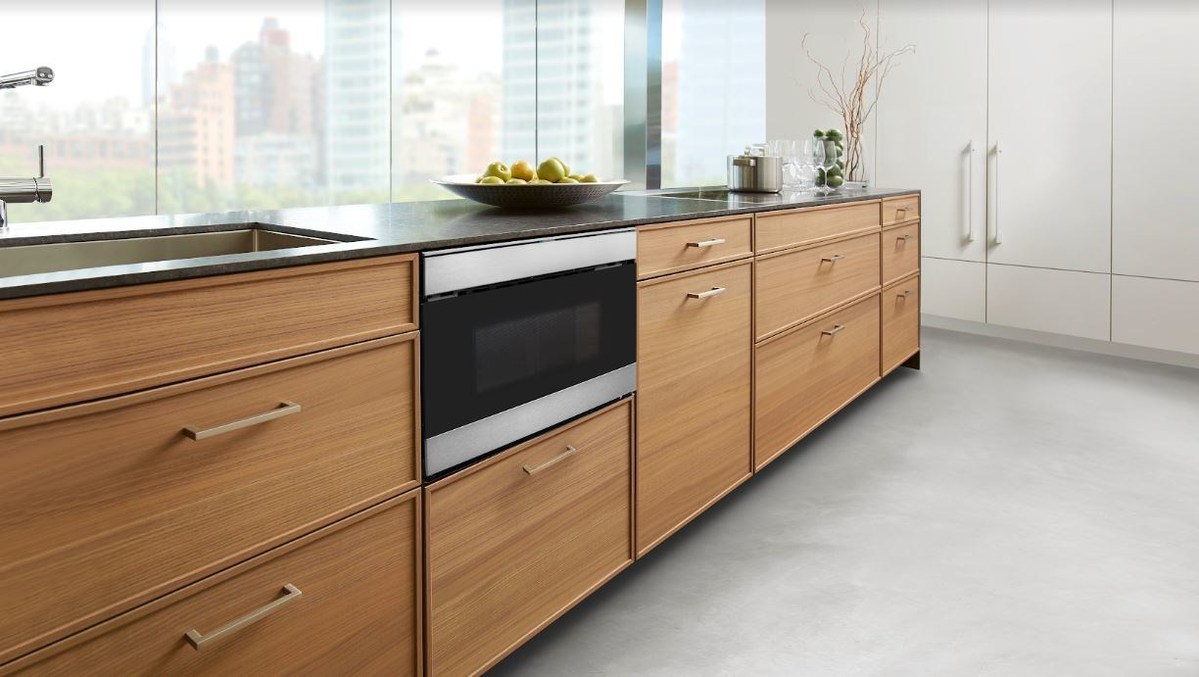 Sharp IoT Microwave Drawer Oven.Sharp brings the first built-in microwave drawer with Wi-Fi connectivity and companion "Sharp Kitchen" app to the modern smart home. The app connects to the oven for remote operation, such as cook commands, and receives notification when the food is ready. The app simplifies tasks normally performed via the control panel, lets users save favorite menu items and provides tips and other content. The Easy Wave Open feature allows for touch-free opening.
CookingPal
"Julia" the intelligent, autonomous cooking system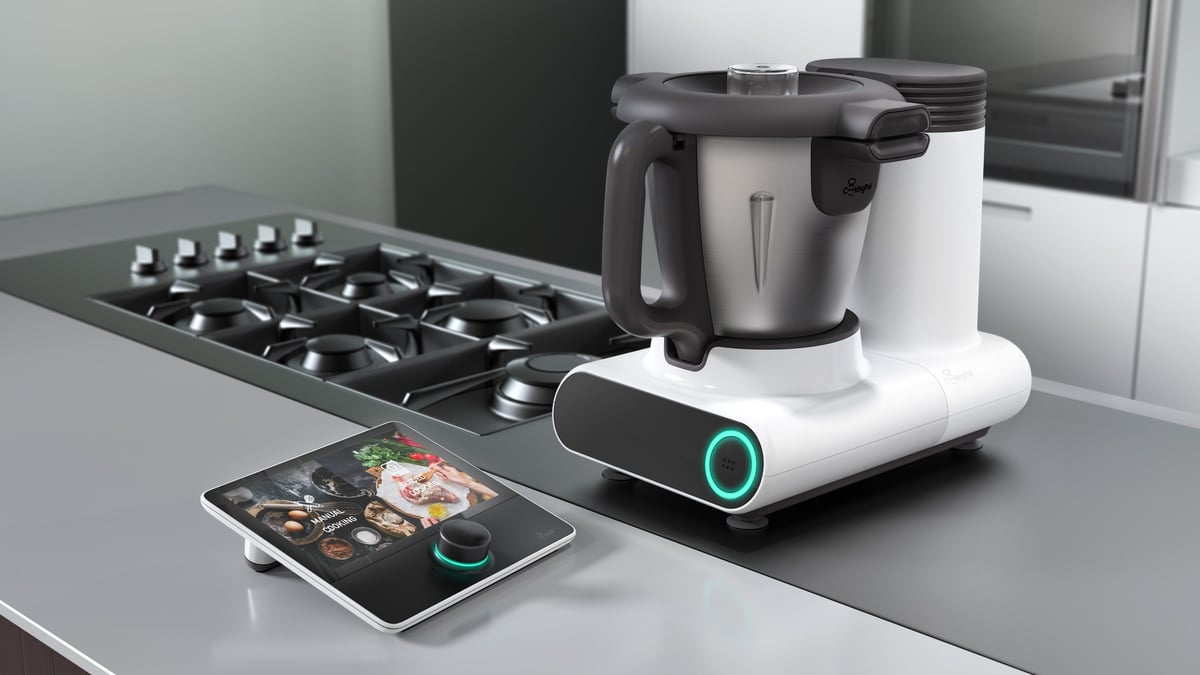 "Julia" the intelligent cooking system.For cooks who need all the help with meal preparation that they can get, "Julia" weighs, chops, kneads, mixes, cooks and steams in one device that also washes itself. Once a recipe is chosen from the hundreds available, Julia prompts the user to add ingredients at the appropriate time and takes it from there. The system includes the Smart Kitchen Hub, a tablet specifically designed to hold up in the kitchen environment with helpful accommodations for messy hands (a physical jog dial) or busy hands (response to voice commands). The Smart Hub provides step-by-step video recipe guides. It suggests recipes based on pictures of available ingredients or uses AI to make recommendations based on personal preferences and the number of people being served. It can also be used to order ingredients.
Daan Tech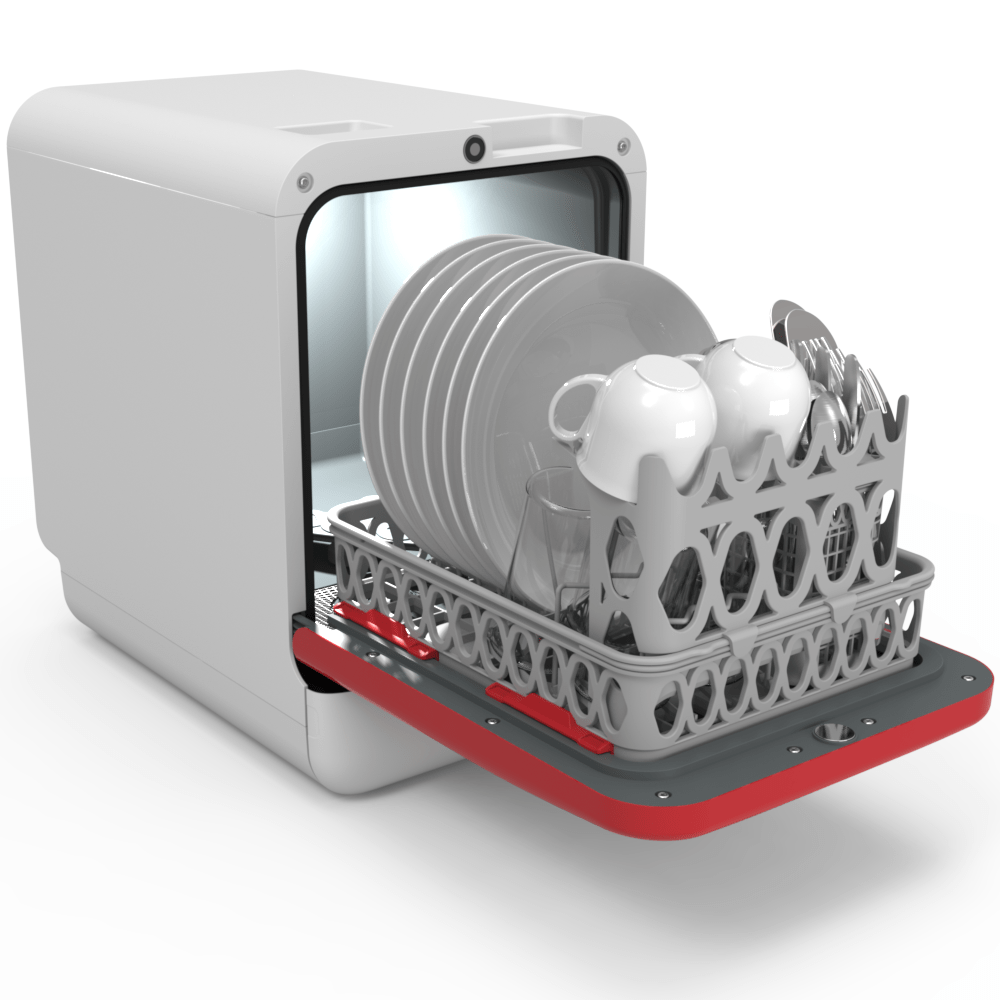 "Bob" the portable dishwasher.
"Bob" the portable mini dishwasher
At 39 cm x 49 cm x 49 cm, Bob is compact enough for the smallest kitchens. It cleans and dries the daily dishes of two people in 20 minutes, using only 2.4 liters of water and 0.35 kWh of electricity per cycle. No plumbing is needed, just plug it in. Detachable accessories for the rack accommodate whatever needs to be cleaned. Bob comes in 12 door colors on either a black or white base.
GHSP
Entertaining induction cooktop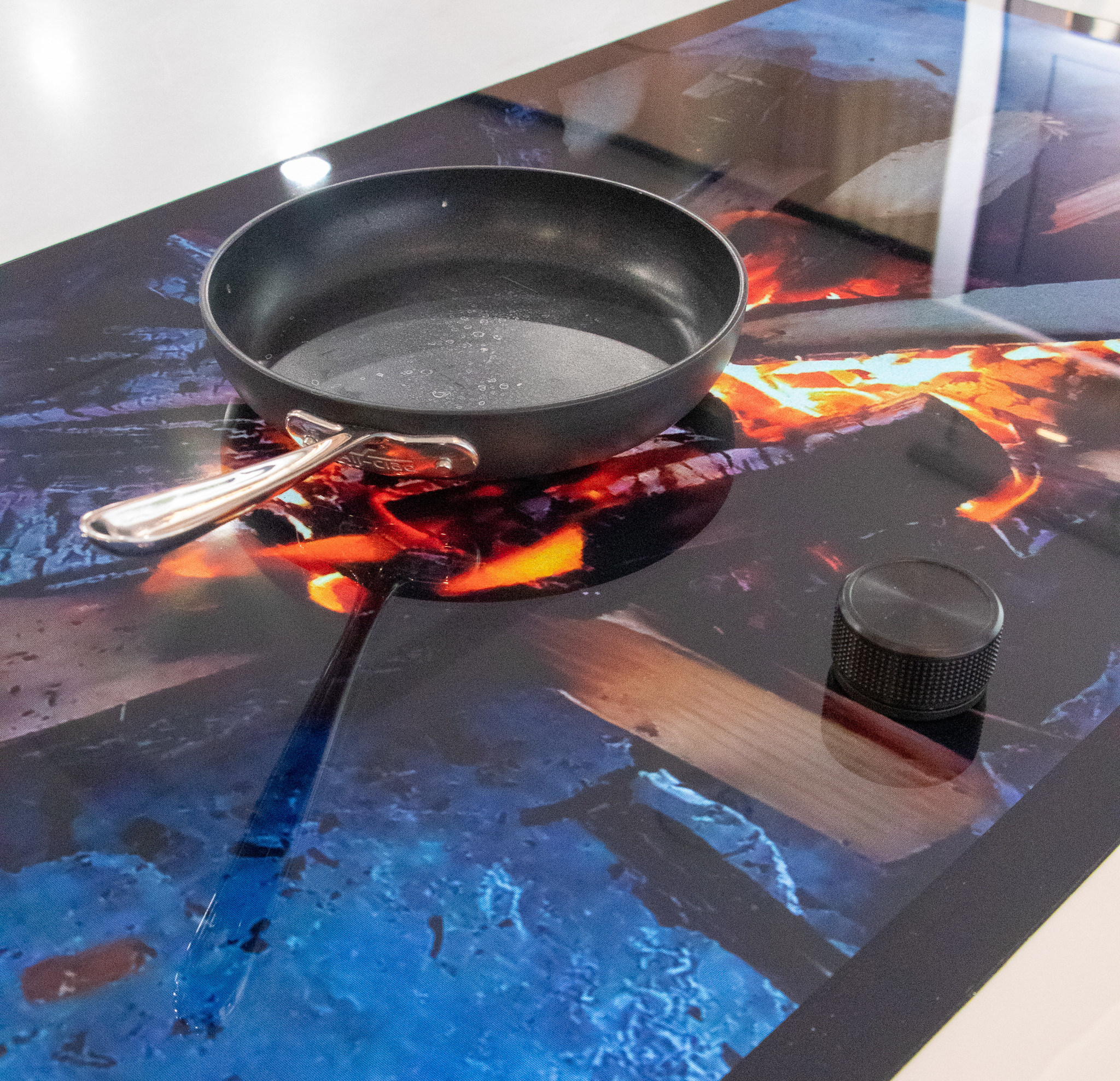 Induction cooktop with OLED display. Source: GHSPThis innovative cooktop incorporates an OLED display into the entire cooking surface with a proprietary transparent thermal barrier. The cooktop can transform from standard induction to a French Plaque cooking surface. Removable wireless control knobs and cooking surface temperature monitoring that alerts the user if a pan is too hot to touch provide a safe and responsive cooking experience. Features include an intuitive user interface, RFID food recognition technology with inductive intelligence as well as access to video content and cooking aids.
GE Appliances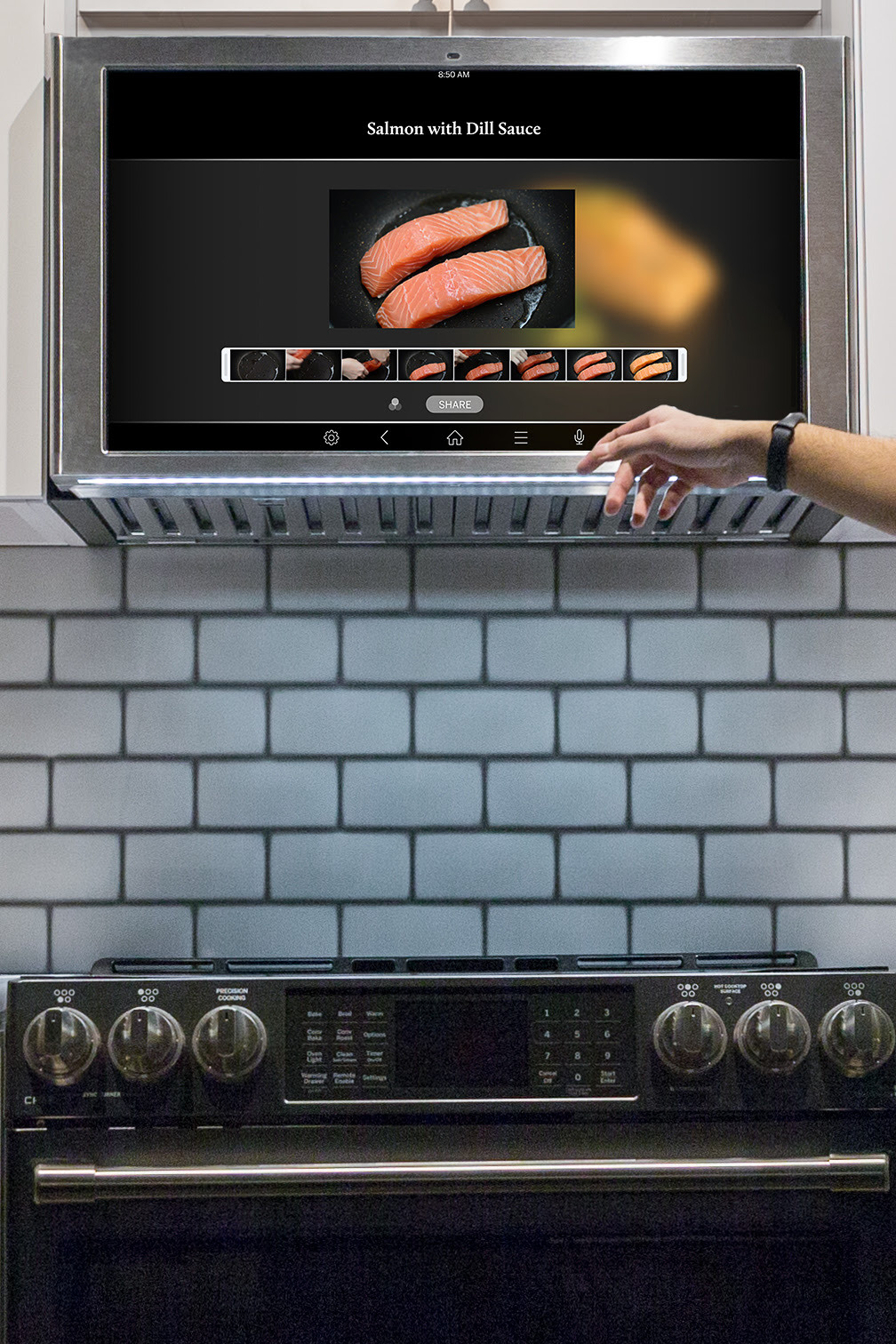 GE Kitchen Hub. Source: GE Appliances
AI-powered computer vision technology added to GE Appliances' Kitchen Hub identifies what ingredients a family has on hand along with recipes to use them before they spoil. The intent is to make meal planning more efficient and reduce food waste. The Kitchen Hub Micro combines a 27 in smart touch screen with a 1.9 cubic foot microwave and ventilation combo and even includes access to apps such as Netflix and Spotify. Cameras allow cooking food to be monitored from another location in the home and can be used to share pictures with family and friends.
Kohler
The Moxie showerhead plus wireless smart speaker brings Harmon Kardon sound design to the bathroom. It includes a portable speaker and a built-in voice assistant for natural sound balance and hands-free control.
The Aquifer Refine water purification system has three-stage filtration to eliminate contaminants such as lead, mercury, some pharmaceuticals, bacteria and viruses from kitchen water. Water usage and filter life, as well as leak detection, can be monitored through Wi-Fi connectivity. Filters can be auto-shipped with Amazon Dart.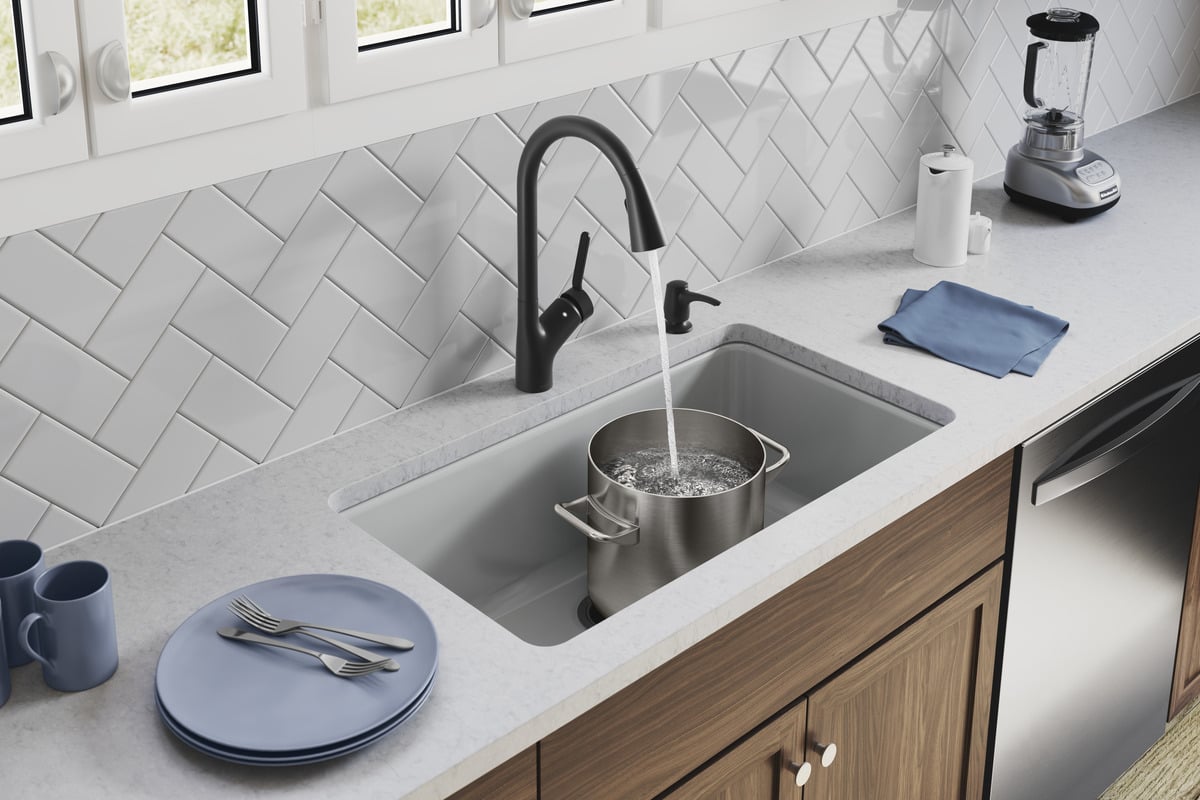 Setra touchless faucet. Source: KohlerSetra touchless faucet with Kohler Konnect offers touchless on/off operation through a sensor and, when paired with a voice assistant, on/off and measured dispense operation. Through the Kohler Konnect app, users can monitor water usage and track consumption.
DTV Mode shower system combines digital shower technology with an integrated temperature dial to create customized bath and shower presets, adjust maximum temperature and remotely start the shower or bath from the app.
The Touchless Toilet prevents the spread of bacteria by eliminating the need to touch a handle to flush. A sensor in the flush lever is activated simply by placing a hand in front of it. An adjustable nightlight in the lever can be controlled through the app.
Samsung
Display and soundbar technologies
The Q-Symphony sound feature combines the built-in speakers and power of the 2020 QLED 8K TVs with the audio capabilities of the HQ-Q800T soundbar for an immersive sound experience.
The Sero operates as a conventional horizontal TV and can also flip 90° for content created in vertical formats.
The Q950TS QLED 8K 85 in TV comes with infinity screen and true-to-life 8K resolution, as well as AI Quantum Processor 8K and object tracking sound+ technology.
The 32 or 27 in Odyssey G7 offers users a unique gaming experience with the combination of a 240 Hz refresh rate, 1 ms response time, quad high definition (QHD) and a 16:9 aspect ratio.
Be sure to check out Electronics360's complete CES 2020 coverage.