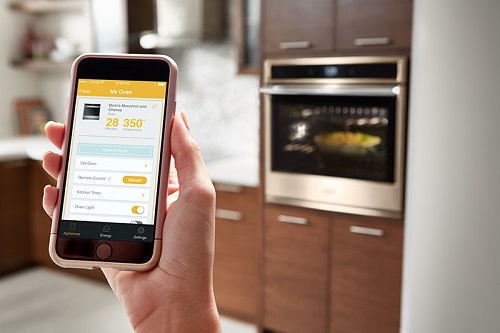 The Connected Hub Wall Oven can show augmented reality through the app to see how a meal is made. Source: Whirlpool
The kitchen of the future is changing with new technologies to make life easier for homeowners and provide new ways to create meals for the family.
These technologies were on display at last week's CES 2019, the largest electronics tradeshow in the world held in Las Vegas.
One of the main trends shown at CES was the concept of a central cooking hub with a touchscreen flat panel display that helps with programming, running and completing meals. But given the hands-on nature of cooking and working in a kitchen, will consumers really want a machine telling them what to do or how to make something?
Blake Kozak, principal analyst of smart home and security technology at IHS Markit, told Electronics360 he believes so. Because these displays and smart appliances provide step-by-step recipes and integrate with other appliances, such as setting a timer or preheating an oven, it takes the guesswork out of cooking and also makes it easier if the user has dirty hands or forgets a step, Kozak said.
"I think consumers are interested in this level of integration but what was really interesting at CES this year was the likes of Samsung and a few others such as Whirlpool which are showing appliances which can auto-detect food," Kozak said. "This has been difficult for many suppliers although Bosch showed something similar at IFA 2018 but I think at IFA 2019 and CES 2020, we will see most of the top appliance makers offering analytics which can auto-detect food types and integrate with recipes and shopping lists."
IHS Markit forecasts the smart appliances market to expand to about 450 million connected units by 2023, up from just 89 million unit shipments this year. Of this total, the majority of these appliances will be room air conditioners and refrigerators, but that leaves room for growth in other areas such as a central appliance home in the kitchen or smart oven.
"The significance of displays in home appliances is the increased AI and functionality they bring to these devices," Kozak said. "One example is the Watch&Touch oven from Candy, which replaces the traditional oven window with a 19-inch touchscreen. These larger screens are changing the way consumers interact with major home appliances in the kitchen."
Kozak said most households will start with a few displays or a few smart speakers that seamlessly integrate into a kitchen ecosystem. The displays will provide a video on how to make a certain dish and automatically preheat the oven and set the cooking time. Other features may come later such as the ability to use augmented reality while cooking or even watch Netflix, which was shown at CES with a prototype from GE.
The smart appliances announcements
The prototype, which GE calls the Kitchen Hub, is an over-the-range interactive appliance and ventilation system that not only allows users to watch Netflix but also watch how to prepare a meal in advance of cooking it themselves. The touchscreen display can also connect with loved ones, so in theory the cook could enjoy a meal with a family member or friend even when they are somewhere else. This could also be a new way to approach date night without having to physically interact.
The Kitchen Hub includes a 27-inch smart screen with forward-facing cameras as well as an overhead camera that allows users to photograph their creations and then share on social media platforms. This probably won't happen if it is a Pinterest fail, however.
A similar prototype was announced by Whirlpool with its Connected Hub Wall Oven, a central cooking station with a 27-inch touchscreen display that can keep track of work, school and extracurricular activities in an interactive calendar, connect with Yummly for the user to follow along with recipes, offer coordinated cooking to prompt users when the right time to take food in and out of the oven and provide augmented reality to help guide users to complete the meal as instructed.
At CES, KitchenAid also debuted its smart oven, which features three oven-powered attachments allowing homeowners to grill, bake and steam food in one appliance. The Smart Oven+ is compatible with smart devices through an app that lets users view the system's status, direct a variety of operations remotely and receive notifications and alerts such as when the oven is preheated or if the food timer has gone off. It also is ported to Google Assistant and Amazon Alexa so users can adjust the oven settings using voice commands.