Signify has introduced new Philips Hue lights that enable users to create synchronized patterns while streaming video content from a variety of devices.
The Philips Hue Play HDMI Sync Box is placed between any streaming device, cable set-top box, video game console or Blu-ray player and a television to provide surround lighting synced to movies, TV shows, video games and music.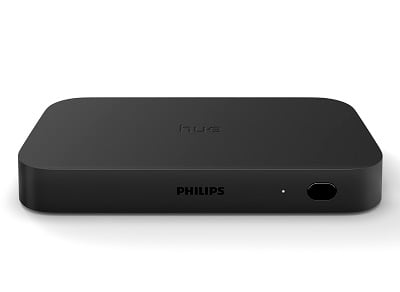 The Philips Hue Play HDMI Sync Box. Source: SignifyIHS Markit forecasts that the market for smart home light bulbs is set to expand to $2.8 billion by 2023, rising by more than a factor of 10 from $241.6 million in 2017.
The Sync Box can connect up to four HDMI devices to watch content along with customized lighting. The box allows a smart home with up to 10 color-capable Philips Hue lights with whatever content is being played on the HDMI devices. The box automatically switches between the four different devices depending on which one is being used, Signify said.
IHS Markit said that while other smart lighting can follow along with streaming music or video games, the Sync Box can link lighting to any video streaming source.
"Perhaps what Philips Hue has proven is that lighting can do more than enhance security or provide healthy ambiance, it can also fully enhance video content experiences," Kozak said. "Although its newest smart plugs and filament lighting solutions will be far more popular and mainstream, colored lighting now has a new use case and interest and growth could be strengthened globally, especially in North America."
The Sync Box works with its own dedicated app to control the lighting and to fine-tune the brightness as well as the speed and intensity of the lighting effects. For everyday use, the system can be configured to automatically react to certain streaming options.