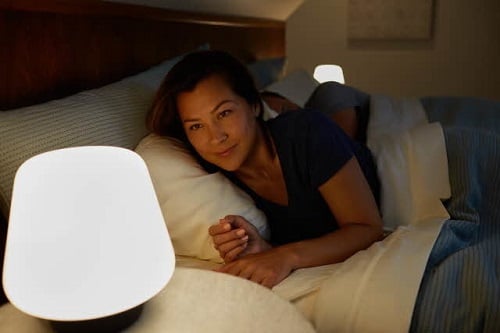 Google Assistant allows for night time and waking scenes. Source: SignifySignify, formerly Philips Lighting, is enabling its LED smart lighting to be controlled by Google Assistant voice commands.
The announcement, made at CES 2019 taking place in Las Vegas this week, allows homeowners to activate lighting during sleep, manage wake light effects, set scenes before bedtime and more.
Users can say "Hey Google, turn on Gentle Wake Up" to sync Philips Hue lights and morning alarms with Google Assistant to set a scene allowing for lighting to start a sunrise effect about 30 minutes before a scheduled wake up. Google Assistant can also schedule sleep lighting and manage lights in different rooms so that different wake-up lighting can be scheduled.
The new feature is slated to be available on Google Assistant beginning in March.
Meanwhile, also at CES 2019, Signify extended its portfolio of outdoor LED lighting with a variety of wall-mounted fixtures as well as a battery-operated Philips Hue outdoor sensor.
The smart lighting can be set up to turn on automatically when someone arrives home in the dark via the Philips Hue app, which allows users to choose who gets the lighting.
The outdoor sensor can be placed on a flat wall near a garage or door with a detection range of about 39 ft. The outdoor lighting can also paint the front or backyard in 16 million colors or bright white light. This allows for scenes to be created for a BBQ in the backyard or for a birthday party.
Click here to check out Electronics360's full coverage of CES 2019.