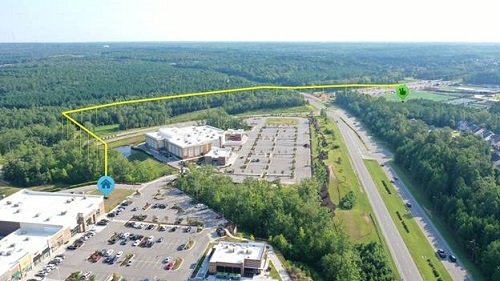 The path the drones will fly during the pilot project in North Carolina. Source: FlytrexFlytrex has received Federal Aviation Administration (FAA) approval to begin food deliveries by drone in Holly Springs, North Carolina.
via drones using Causey Aviation Unmanned (CAU) drone services.
The pilot project is part of the FAA's UAS Integration Pilot Program (IPP), a program designed to examine delivery drones for markets including parcel shipments, medical supplies, grocery items and other goods.
As part of the project, Flytrex will operate drones along one predetermined delivery route, connecting a distribution center at a shopping destination in Holly Springs Towne Center to Ting Park, an outdoor sports and recreation hub. The flight route crosses over Route 55 but will primarily fly over unpopulated areas.
Flytrex recently had its self-triggered parachute recovery system validated by the FAA and the American Society for Testing and Materials (ASTM), allowing it to get approval for drone deliveries.
"Regulation is crucial to the future of widespread drone delivery, both for safe operations and public acceptance, which is why we have been working diligently with the FAA to adhere to the highest standards of safety," said Yariv Bash, CEO and Co-Founder of Flytrex.
Flytrex had previously tested its service for a food delivery program on King's Walk Golf Course in Grand Forks, North Dakota, and parcel shipping to urban residents in Reykjavik, Iceland.
Drone delivery service is emerging technology with numerous startups, such as Flytrex, Drone Delivery Canada, Matternet, Zipline, Workhorse Group and many more.
Parcel delivery giant UPS is seeking FAA approval for its own service. And other big-name vendors have had their own initiatives, including FedEx, Google's Wing, Airbus and Amazon. Meanwhile, new methods for delivery may bring additional sources of revenue for companies in this emerging market.