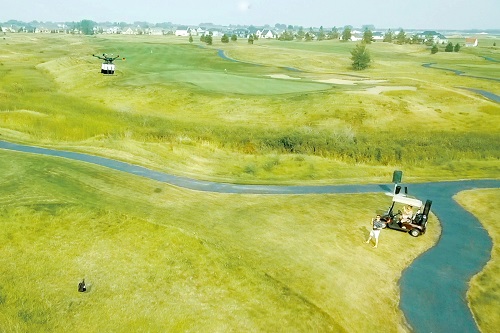 Food and drinks from the golf course clubhouse were delivered to golfers via drone. Source: Flytrex
We last saw Flytrex when it had just begun a pilot project to test delivery drones in Iceland, partnering with AHA, the country's largest shopping and retail website, to deliver goods to residents of Reykjavik.
Flytrex is now partnering with Ease Drones in another pilot project that involves delivering food to hungry golfers at King's Walk Golf Course in Grand Forks, North Dakota.
Golfers used the Flytrex app to order food and drinks from the clubhouse including Gatorade, cheeseburgers and other items that were all delivered via drone. The service costs an additional $3 for every order. Because golf courses are open areas and operators can keep the machines in their line of sight, these drones comply with current FAA regulations, although it could change in the future.
Ease and Flytrex are also working together as part of North Carolina's UAS Integration Pilot Program to conduct operations with the help from the FAA and the North Carolina Department of Transportation.