Sometimes it is the smaller companies that do the most behind the scenes.
In every industry, in every market, there is one thing that will always be needed—a source of power. Whether it be for audio or video, airplanes or spacecraft, infrastructure or lighting, power plants or military bases, and all the electronics that enable telecommunications, the internet and computing to function.
Yet, sometimes power supplies are a forgotten market—an afterthought in the building of a new datacenter, airplane or power plant; working in the background to enable everything to actually function.
Acopian may not be a household name and you won't find the company developing anything flashy like an electric car or the latest iPhone, but the company has been steadily and reliably manufacturing power supplies for decades, working with name brands every day to power the world.
The Easton, Pa.-based company last month celebrated its 60th anniversary, no small achievement in an electronics market wrought with turnover, takeover and flash-in-the-pans.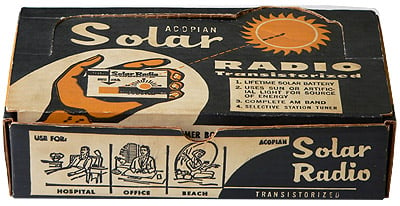 The 1U family of programmable power supplies. Source: Acopian
Founded in 1956, Acopian was years ahead of its time when its founder, Sarkis Acopian, developed something that is in wide use today—the solar radio. Marketed as "Revolutionary— No Batteries or Outside Electrical Plug-in—Uses light for source of energy," it was the first recorded solar powered radio manufactured for sale to the public.
Over the course of the next 60 years, Acopian's power supplies have been used in ground support for NASA; mission critical test equipment for Boeing, Raytheon, Northrop Grumman; nuclear power plants such as Westinghouse, Duke and Dominion; in major amusement parks to power rides; and in stadiums and arenas to power audio and lighting. Acopian even bailed out the National Football League one year to power the Super Bowl as well as assisted in a New Year's Eve ball drop!
"We are a small business with a global footprint," says Alex Karapetian, director of sales and marketing at Acopian and a third-generation family member working at the company (founder Sarkis Acopian was his great uncle). "We are behind-the-scenes. Yet, it is our core values of the company and the work we do that really sets us apart."
Those values include a tradition of a three-workday delivery, never discontinuing a product, built-to-order power supplies and all manufacturing done in America.
Never discontinuing a product is an interesting twist in an industry that is continually in search of and upgrading to the next big thing, while forgetting its past. Again, it is that behind-the-scenes nature of Acopian in action.
"We still support supplies from the 1960s that we have manufactured and they have installed in power plants," Karapetian says. "Acopian keeps these plants working when something goes wrong or can't be found elsewhere."
Linear Models
It is that support of never discontinuing outdated power supplies that has led to Acopian being one of the last companies standing that still manufactures linear power supply models.
While classified as an older technology—they are heavier, bulkier and produce less power than newer variations—there are still certain industries that demand a source of linear power because of its low electrical noise variable and fewer parts. These attributes mean there is less of a chance of something going wrong.
"No matter what, you can't get away from linears," says Karapetian. "The audio industry needs low noise power supplies for recording studios. The medical industry needs linears for quiet atmospheres. Energy and power industries request linear power because they need clean, reliable power supplies. While most people are using switching models, these aren't going away. "
Still Evolving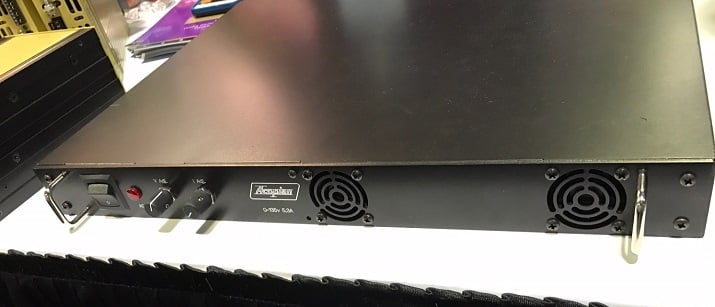 The 1U family of programmable power supplies. Source: Acopian
That isn't to say Acopian hasn't evolved. The company has millions of different power supplies available and continues to adjust to the changing nature of electronics. The company recently introduced a new family of programmable AC-DC power supplies, dubbed 1U, that provides flexible and reliable power available at 720 W power levels with single output voltages ranging from 3.3 V to 135 V and current capabilities up to 70 amps.
The 1U family is offered as either a rack-mounted or benchtop version to accommodate a number of different applications. What sets these power supplies apart from other products is that along with a number of standard features there are a host of a la carte options available.
"You pay for what you want and build your own power supply," Karapetian says.
These options include handles, relay alarm contacts, bus bar covers to protect from contact, voltage and current meters, N+1 redundancy, moisture/fungus proofing, auxiliary outputs, chassis slides, output blocking protection diodes used for battery charging applications, output to enable the DC output and Ethernet/USB/RS232/RS485 digital interfaces.
Built-to-Order
The new 1U family of power supplies is just one example of Acopian's custom business.
As more designs become extremely complex, vendors are often asking for specific options or features in their power supplies that aren't available in an off-the-shelf model.
"We design along with the customer what they exactly need," Karapetian says. "Say they need a specific voltage like 13.7 volts. No one makes a standard 13.7 volt power supply. We modify our existing products to meet the customer's need because all of the industries are constantly changing. Their designs are changing. Their requirements are changing."
Karapetian added that this customization has become a popular option for the energy and power industries because once they design something in, they do not want to go back and deal with the headache of a costly retrofit.
Powering the IceCube Neutrino Observatory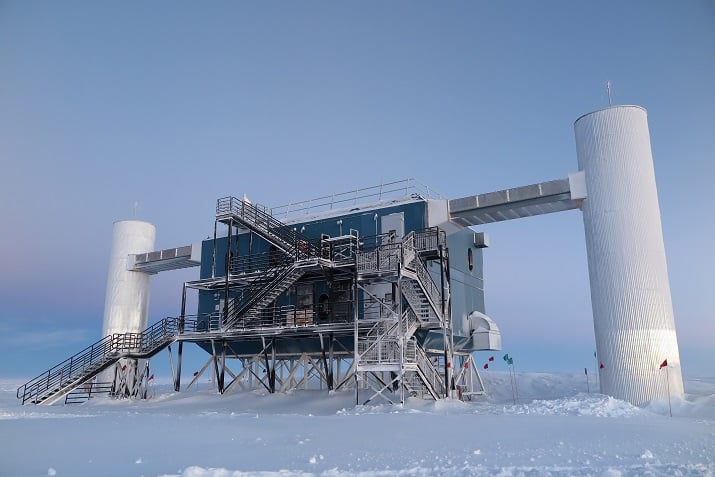 The IceCube Neutrino Observatory researches massless subatomic particles in the South Pole. Source: IceCube Neutrino Observatory
While much of what Acopian does may be unknown to the layperson, one of the intriguing projects it has contributed to is the IceCube Neutrino Observatory, where the company's power supplies were installed to help keep the facility operational in extreme harsh conditions.
Led by the National Science Foundation and the University of Wisconsin-Madison, the IceCube receives contributions from 300 physicists from 48 institutions across 12 countries to study the cosmos from the cold, often completely dark South Pole.
IceCube searches for massless subatomic particles called neutrinos, which provide information on the most violent astrophysical forces such as exploding stars, gamma-ray bursts and cataclysmic phenomena from black holes and neutron stars. The project aims to answer questions on the nature of dark matter and the properties of the neutrino itself, as well as how cosmic rays interact with Earth's atmosphere.
Core Values
The industry expert in power supplies plays a major role in much of the world's workings. Acopian is dedicated to its long-lasting products, interactions with live workers (not merely an automated menu that discourages customers) and expedited shipments. Like Karapetian says, it's the "core values" that have set it apart over the last 60 years. It's the family principles and nature that have made possible multiple environmental and educational missions to create a better world, as well as a company dedicated to service. Acopian will continue to "power your way" in the years ahead, remaining a small business with a global footprint.