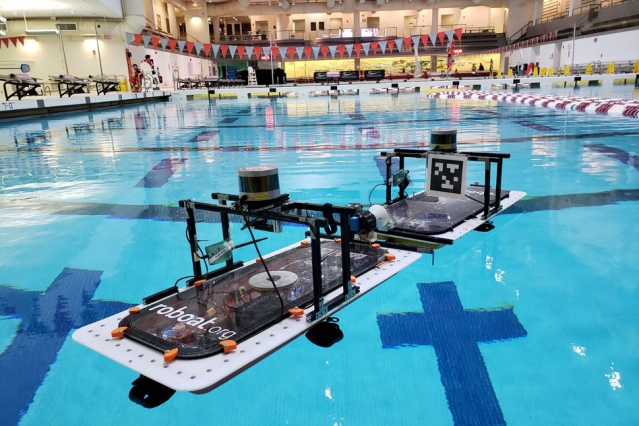 Source: MITResearchers at MIT, in collaboration with Amsterdam's Institute for Advanced Metropolitan Solutions, have developed a prototype for an autonomous robot boat that locates and attaches to other robot boats to create modular structures.
Dubbed "Roboats," MIT researchers envision autonomous boats that join together to make larger structures, such as barges, stages for concerts, outdoor markets or walking bridges. Likewise, the roboats could also behave like water taxis and ferries, transporting goods and people along canals. A possible use case that MIT is exploring with the city of Amsterdam puts the roboats to work as mini garbage collection barges that autonomously collect garbage around the city's 165 canals.
The latest iterations of the roboat self-identify and dock to compatible stations. The new prototypes, outfitted with subaquatic thrusters, sensors, GPS, lidar, tiny computer brains and cameras, follow a predetermined path. Using trial-and-error, algorithm-based, autonomous programming, the vessels are able to identify and connect to other roboats. Each roboat prototype contains latching mechanisms composed of ball and socket components, which join together once they meet. This was accomplished in roughly 10 seconds during testing, from about 1 m away, according to researchers.
"The aim is to use roboat units to bring new capabilities to life on the water," explained co-author Daniela Rus, director of the Computer Science and Artificial Intelligence Laboratory. "The new latching mechanism is very important for creating pop-up structures. Roboat does not need latching for autonomous transportation on water, but you need the latching to create any structure, whether it's mobile or fixed."
Researchers intend to create full-scale autonomous platforms in the future, capable of holding people on board.