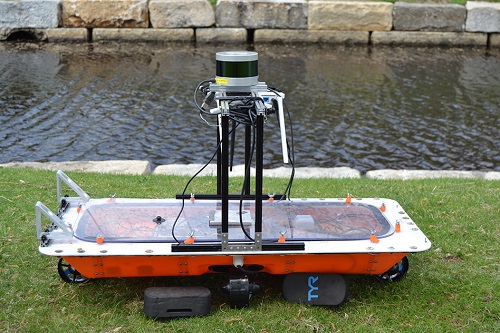 The boats could be programmed to self-assemble into floating bridges, concert stages, platforms for food markets and more. Source: MIT CSAIL
There are many proposed methods to help clear up road congestion including a fleet of flying air taxis, the advent of self-driving cars and entirely new methods of transportation such as the hyperloop.
MIT's Computer Science and Artificial Intelligence Laboratory (CSAIL) and the Senseable City Lab in the Department of Urban Studies and Planning (DUSP) have proposed a new possibility in a fleet of autonomous boats that ferry goods and people in waterway-rich cities such as Amsterdam, Bangkok and Venice.
The boats can be rapidly 3D printed using a low-cost printer making mass manufacturing more feasible and by taxiing people around, ease congestion. Future versions of the driverless boats could be used to perform city services overnight, instead of during busy daylight hours, further reducing congestion on roads and canals.
"Imagine shifting some of infrastructure services that usually take place during the day on the road — deliveries, garbage management, waste management — to the middle of the night, on the water, using a fleet of autonomous boats," said Daniela Rus, MIT CSAIL Director.
The rectangular boats with 4-by-2 meter hulls are equipped with sensors, microcontrollers, GPS modules and other hardware that could be programmed to self-assemble into floating bridges, concert stages, platforms for food markets and other structures in a matter of hours. MIT CSAIL said some of these activities usually take place on land and cause disturbances to a city's traffic levels, however, if done on water could improve congestion. The team said the boats could even be equipped with environmental sensors to monitor a city's water and gain insight into urban and human health.
How They Built Them
Researchers 3D printed a rectangular hull with a commercial printer, producing 16 separate sections that were put together. The printing process took about 60 hours with the completed hull then sealed by adhering several layers of fiberglass.
Power supply, Wi-Fi, GPS, a minicomputer and microcontroller were integrated onto the hull and an indoor ultrasound beacon system and outdoor real-time kinematic GPS modules were installed for precise positioning. An inertial measurement unit (IMU) module was also installed to monitor the boat's yaw and angular velocity as well as other metrics.
The rectangular shape was used to allow the vessel to move sideways and attach itself to other boats when assembling into other structures. Four thrusters are positioned in the center of each side, instead of at the four corners, generating forward and backward forces, making the boat more agile and efficient, MIT CSAIL said.
The researchers tested the boat with a smaller prototype of the boat in a swimming pool and in a local river tracking errors and accuracy, which were smaller than traditional control algorithms. This was the result of the onboard GPS and IMU modules, which determine position and direction down to the centimeter.
The design and easy fabrication of the boats combined with faster and more precise control algorithms point to a way toward feasible driverless boats used for transportation, docking and self-assembling into platforms, MIT CSAIL said.
The next step is to work on developing adaptive controllers to account for changes in mass and drag of the boat when transporting people and goods. The team also wants to refine the controller to account for wave disturbances and stronger currents as bigger boats will bring big currents.