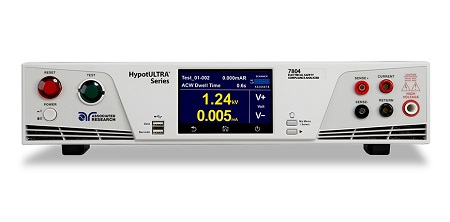 The HypotULTRA Model 7804. Source: Associated ResearchRunning from March 17-21 in Anaheim, California, APEC 2019 offered an opportunity for electrical safety test instrument manufacturer Ikonix USA to showcase instruments from all three of its divisions: Associated Research, SCI and Associated Power Technologies. Electronics360 got a chance to visit their booth and hear about several products:
Associated Research
HypotULTRA Model 7804: 4-in-1 solution with added 40 A AC ground bond test capability, designed to increase efficiency with its direct barcode scanner connection and intuitive touch-screen interface.
TVB-2: Go/no-go load box for verifying proper functioning of failure detectors on the Associated Research electrical safety testing instruments.
SC6540: Designed to automate multi-point and multi-DUT testing when using the HypotULTRA Series. Can increase production line throughput or expand lab testing capability by adding up to 16 channels for multi-point testing.
SCI
297 Model: A rugged, lightweight and durable device designed to simplify high-potential (hipot) testing. Offers a security feature that allows a user to prevent setting changes without approval.
Associated Power Technologies
6010 Model: A lightweight device with switch-mode technology and a direct coupled output that can be used in advanced bench-top or rack-mount applications. Compatible with PowerTRAC.
Click here for more information on the full line of Ikonix USA products. For more on APEC, visit our dedicated section Electronics360 covers APEC 2019.