The smart home market, which falls under the wide umbrella of the internet of things (IoT), is technically still in its infancy, having only gained popularity in the past two years.
However, given that the smart home is an entirely new market, medium-sized companies and major market vendors such as Amazon, Samsung, Philips, Google and Apple all jumped in with both feet. The result was an influx of vendors and accompanying devices flooding the market and covering all aspects of the home including smart security, smart lighting, smart thermostats, smart speakers, smart doorbells and more.
Market research firm IDC forecasts the smart home market to grow to 789.6 million units shipped in the U.S. in 2023. That would more than double the number of shipments in 2018. The firm said that most of this growth will come from smart speakers and smart TVs followed by home security devices.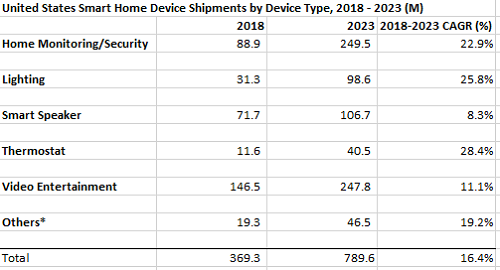 The smart home will be driven by entertainment devices such as smart TVs and speakers in the next five years. Source: IDCWith so many smart devices on the market, all with their own apps to control them, in just a few years the market has become saturated, not to mention confusing for consumers looking at sometimes dozens of different options for smart devices.
But beginning in 2019, the smart home market began to experience a number of acquisitions, like Amazon's purchase of Eero, Control4's purchase of Neeo, Apple's patent pickup of a failed home security startup, ADT's acquisition of home security competitor LifeShield, Shell's purchase of home energy vendor Sonnen among others. At the same time, a number of brand names are exiting the market due to its highly competitive nature, including Lowe's ending development of its Iris brand this year.
According to Blake Kozak, principal analyst for the smart home and security technology at IHS Markit, these moves will mark the beginning of the IoT consumer segment consolidating around a few key players.
But that could be a good thing, Kozak said. That's because more consumers will be brought to the table because there will be "a few clear ecosystems" that will help expand the penetration of smart home devices elevating "new market entrants such as insurance companies and real estate investors/builders as well as multifamily dwellings."
DIY disillusionment
2019 is emerging as the year that the smart home market began to consolidate. A key factor is that consumer awareness is reaching a critical point where enough people are becoming aware of connected devices and what they can do inside a home.
Between 18% and 20% of U.S. households with a broadband internet connection currently own or use at least one smart home device, according to IDC research. The proliferation of smart assistants from Amazon, Google, Apple, Samsung, Microsoft and other big vendors has raised consumer awareness, not just about what smart speakers can do, but about the overall smart home. As a result, consumers are buying more than just one connected device for the home.
With multiple devices, "DIY disillusionment is happening" as homeowners are figuring out that they cannot make multiple devices work together, said Brad Hintze, senior director of product marketing at smart home vendor Control4.
The DIY component of the smart home was feasible when the consumer was only responsible for setting up a single device. However, as users bought two or three more devices, getting the devices to pair together has proven difficult because the apps often don't work together.
Now, the market is moving into the fully managed service side where companies such as Vivint, Control4 and others provide all of these services together as well as maintenance and services. And others may soon be following suit.
"If you look at Amazon, Google and Samsung, they are positioning themselves as a one-stop shop provider so that all their devices work together from the start," said Adam Wright, senior research analyst for IoT at IDC.
These companies are looking at gaps in their portfolio and looking to fill those gaps as quickly as possible as not to miss out on any penetration into the market.
All-in-one or none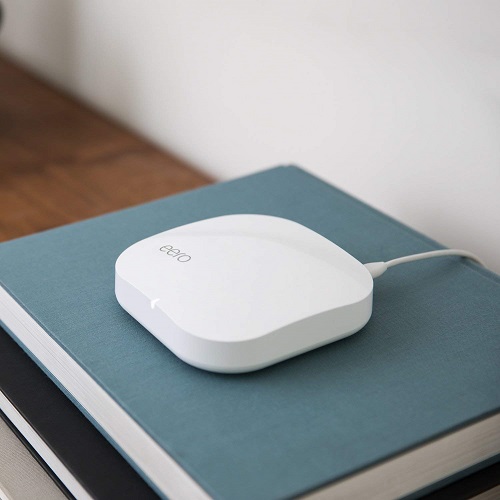 Amazon acquired Wi-Fi mesh vendor Eero that already works with Alexa. Source: AmazonMany of these acquisitions are happening in order to further this move to fully managed services and to provide all-in-one smart home offerings rather than just one device here and another device there.
Control4 started working on this model with the belief that one company can handle the bulk of the home automation work and individual smart devices were more of a novelty, Hintze said.
"This is a natural evolution that people who live with this technology already and are naturally drawn toward these scenarios where the devices are integrated," Hintze said.
Control4's acquisition of Neeo this year came about because in order for Neeo to achieve further growth it either had to open new ventures or become a bigger part of another company, Hintze said.
Similarly, the motivation behind Amazon's acquisition of Eero was to help consumers better connect multiple devices together.
"It's pretty simple for us. We believe the smart home experience can and should be even easier for customers and working with a company like Eero helps us get closer to that vision," an Amazon spokesperson said.
When asked if Amazon plans to create one ecosystem of smart home products, creating a one-stop shop for home automation, and if this would involve further acquisitions, the spokesperson declined to comment.
However, Wright said that the Eero buy was good for Amazon because it already works with Alexa. The company can then sell it and Alexa as a package deal along with its Ring smart doorbell without requiring a complex set up.
Hintze said Amazon is trying to pull everything together to create an ecosystem of devices that all connect to Alexa, but they are still working their way toward that goal. Meanwhile, Apple and Google also are trying to accomplish an all-in-one platform but are farther behind where Amazon currently is.
The problem is, Hintze said, that none of these companies are working together and if a consumer wants a particular device from one of these vendors, it won't work with anything else. So the consumer will be pigeonholed into selecting either Google, Amazon, Apple or another vendor for all their devices.
A hot year
This year will be a "hot year for consolidation" and not just at the device level but at the software level where it is likely "software vendors will be targeted soon," Wright said.
The market will also likely see smaller players position themselves for acquisition as they struggle to grow or find themselves in a highly contested segment. Wright said that he expects to see others outside the traditional smart home vendors get involved. Players could include Comcast and Verizon as they begin to build out their home portfolio to offer value-added services in addition to traditional telecom and wireless connectivity platforms.
"This is only the beginning of the smart home acquisition craze of 2019," IHS Markit's Kozak said.