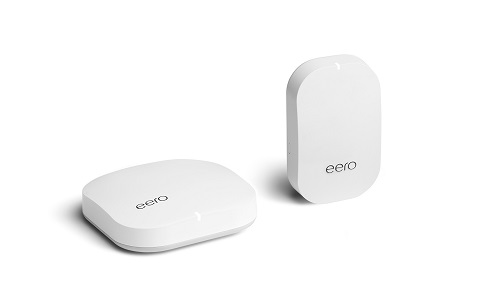 Eero's mesh WiFi device now part of Amazon's smart home portfolio. Source: EeroAmazon has signed an agreement to acquire mesh Wi-Fi system vendor Eero in order to help consumers connect smart home devices easier.
Under the agreement, Amazon will acquire the Wi-Fi mesh systems that work to blanket the home with a wireless connection that is aimed at eliminating dead zones to deliver bandwidth to all connected devices.
Using the Eero app, consumers can set up the system in under 10 minutes, share their network, program parental controls and run speed tests on demand. The system is self-updating, self-fixing and communicates with the cloud to receive instructions.
Financial terms of the acquisition were not disclosed.
The acquisition makes sense for Amazon as it is the leader in the smart voice speaker market with its Alexa-enabled products that use Wi-Fi as the primary connection in the smart home. Being able to easily connect both Alexa products and devices to a network gives Amazon a boost toward selling more connected devices.
Juniper Research forecasts the smart speaker market to manage a compound annual growth rate (CAGR) of 41.3% through 2023. The digital voice assistant market is set to expand in the next five years growing to 8 billion digital voice assistants up from an estimated 2.5 billion at the end of 2018.
While digital voice assistants will be the largest volume in smartphones driven by Google Assistant and Siri, standalone apps made by independent vendors for smartphones and tablets are expected to decline with revenues beginning to fall in key markets from 2022, Juniper said.
The exception will be in China where WeChat and Alibaba will continue to prosper with its app-based digital voice offerings alongside smart speakers that are not part of an operating system. Juniper Research forecasts that 78% of voice assistant apps globally will reside in China in the next five years.
Learn more about Juniper's findings with its digital voice assistant market research.