Smart parking is less about where a car goes when it enters a parking garage or parking deck, and more about managing congestion in that vehicle lot as well as keeping track of the location of the vehicle to improve operations and increase productivity.
The market for smart parking is on the rise due to concerns over parking congestion, growing adoption of the internet of things (IoT) and the increase of vehicles on the road.
Smart parking is seen as one of the major ways smart cities can improve the efficiency and lives of consumers. As a result, Research and Markets forecasts the smart parking market to reach $7.8 billion by 2024 with a compound annual growth rate (CAGR) of 10.5% during the next five years.
While smart cities are still in their infancy, Silicon Labs and Cognosos are looking to accelerate how smart parking evolves by collaborating on a wireless networking device that allows employees of vehicle lots to perform quick online searches or use smartphones to pinpoint the location and movement history of cars stored in distributed lots and parking decks.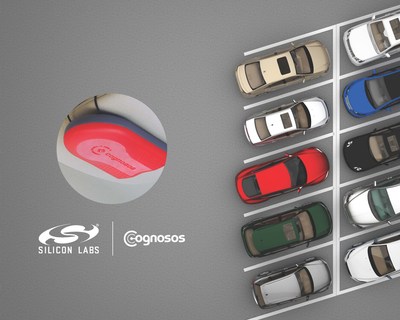 The RadioTrax networking device with the Flex Gecko SoC. Source: CognososThe device called RadioTrax uses Silicon Labs' Flex Gecko system-on-chip (SoC) and works by a driver scanning a RadioTrax tag and vehicle lot employees scanning the car's VIN or stock number. The vehicle then shows up on a digital map with instructions on how to reach it. The tag can be secured to the visor or rear-view mirror of every car and transmits a sub-GHz radio message using Cognosos' wireless technology.
RadioTrax uses an accelerometer to detect motion whenever the car is moved and displays the car's location in real-time, which the companies said goes beyond previous technologies that only show the last known location of a car.
Steve Robb, CEO of Cognosos, told Electronics360 that the most compelling use cases for the technology are on campus environments that have a large number of cars that can be tracked across large storage areas. Given that these are high traffic areas, it is possible the technology could be used for anti-theft as well.
While the tracker tag in its current form alerts customers if the car has left the property or moved through a geo-fenced area, sensors exist that would detect vibrations associated with breaking a window or opening and shutting a door.
"We haven't had the demand to include those sensors in our tracker tags today, but it would be a straight forward matter to include them on a future version of the tag if the market demanded it," Robb said.
Another use case for the technology could be working in conjunction with the emergence of self-driving cars or those vehicles with self-parking capabilities.
"It would be especially applicable to those vehicles that operate within a bounded range, such as those that provide delivery services from stores. Kroger is testing services like this now," Robb said. "The technology has all kinds of applications, for example monitoring the presence of a vehicle in a parking space, so a scenario might be that the technology works in conjunction with a self-parking car. By embedding our RadioCloud technology in self driving cars they would be able to communicate with parking sensors and other infrastructure without incurring any cellular connection fees."
While the technology may help accelerate efficiency in getting a car out of a lot, attaching location tags to a vehicle might present some privacy concerns. However, Robb said the tags do not connect to the car's systems in any way. The device sends encrypted location information whenever the car moves to a new location and it is impossible to set up a two-way connection over the internet.