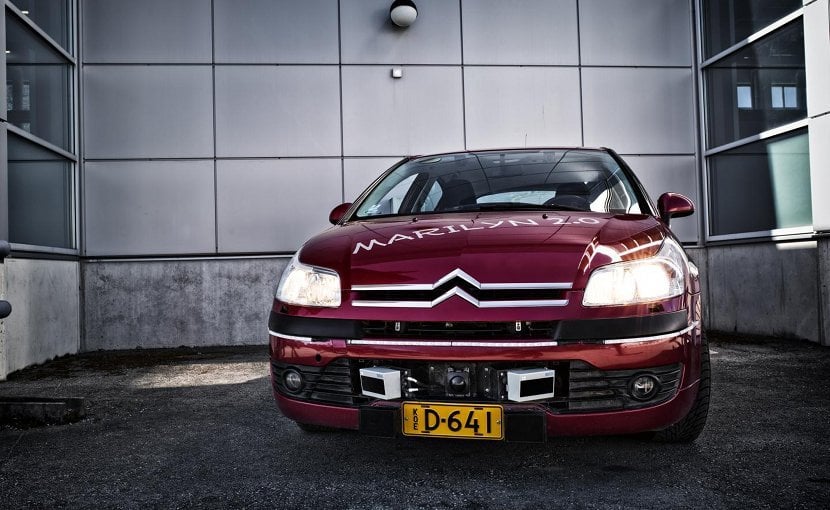 This is Marilyn the Finnish autonomous, self-valeting car. Source: VTT
The VTT robot car named Marilyn has been tested to drive on its own through a parking lot into an open parking space. The internet of things (IoT) helps the car find the free parking space while navigating through the parking lot and avoiding obstructions. The goal is to have a fully autonomous car that can valet itself, even when it is far away from the driver.
Marilyn is part of the AUTOPILOT project, which has been funded by the European Commission and has test sites all over the world. The project is a huge step forward for IoT in automated driving.
Marilyn uses UWB-based petitioning technology that was developed by HERE. With this technology, Marilyn is able to position itself without the use of satellite technology, which is often useless in underground parking garages. Ultra-wideband (UB) is a radio tech that can transmit data with short and low-power pulses over a wide frequency band.
To find the parking space, the driver chooses a parking space before arriving on a smartphone app. When the car arrives at the parking lot or parking garage, the car's parking guidance technology checks to see if the prechosen parking space is still available. The guidance technology also scans the area through traffic cameras and the IoT platform to check for obstructions and other issues that may pop up when the car is driving on its own through the garage. This information is then sent to the car and if everything looks safe and space is available, the car proceeds to the space.
This technology is still in the testing and development stages, with testing being conducted through December 2019. The researchers hope that this kind of technology will help further the development of automated cars.
To learn more about Marilyn and the new automated parking technology, visit VTT.