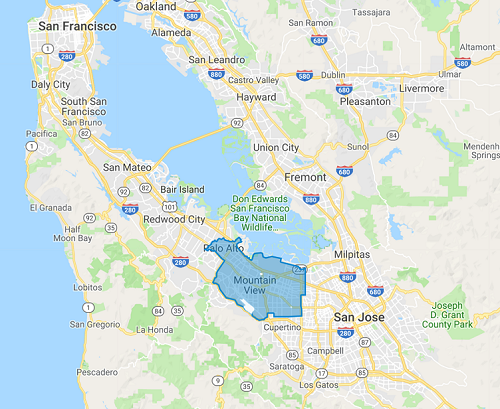 Waymo will test driverless cars in the Mountain View, Sunnyvale and Palo Alto regions of the Bay Area. Source: WaymoThe California Department of Motor Vehicles (DMV) has granted a permit to Waymo, Google's autonomous vehicle division, to test driverless cars on public roads.
The permit is the first from the DMV to let an automotive company test self-driving vehicles on public roads without a test driver sitting in the driver's seat.
Recently, Waymo announced it had completed 10 million miles of autonomous driving on public roads across 25 cities. California will join Waymo's driverless testing program that has already been taking place in Phoenix, Arizona, since last year.
The test vehicles will be driving in parts of the San Francisco Bay Area including Mountain View, Sunnyvale, Los Altos, Los Altos Hills and Palo Alto. Waymo said it plans to expand the testing but will submit a request to the DMV and notify communities prior to the expansion.
The permit allows Waymo to perform both day and night testing on city streets, rural roads and highways with posted speed limits of up to 65 miles per hour. Waymo said the vehicles can handle fog and light rain and those conditions are included in the permit.
The first driverless rides will be for members of the Waymo team but eventually the company plans to create opportunities for the public to take rides as well, similar to what Waymo has done in Arizona with its early rider program.