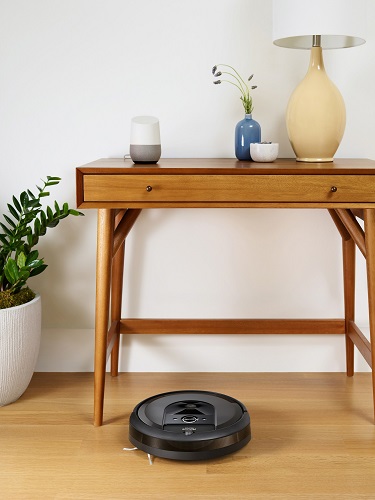 The companies are looking to explore how spatial awareness could be used in other devices. Source: iRobotUsing robotic and smart home technologies, Google and iRobot Corp., the maker of the autonomous robotic vacuum cleaner Roomba, are partnering to bring new technologies to the next-generation smart home.
While the companies did not expand upon the details of the agreement, they said that by working together, they will seek to find additional ways to integrate their platforms into new smart home applications. iRobot gives the example of its Roomba's spatial awareness that could be used to help simplify smart home setups or enable new home automations.
The Roomba i7+ has a feature called Imprint Smart Mapping that remembers multiple floor plans and room names so users can customize cleaning jobs. Using Google Assistant, consumers can direct the robot to clean specific rooms through voice commands.
"Robots with mapping and spatial awareness capabilities will play an important role in allowing other smart devices in the home to more seamlessly work together," said Colin Angle, chairman and CEO of iRobot. "We're looking forward to working with Google to explore new ways to enable a more thoughtful home."
Google said it will explore how iRobot's spatial awareness technology can work with Google Assistant to offer more intuitive and personalized experience for current and future smart home devices.