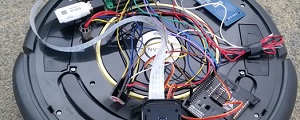 Source: Fraunhofer Institute for Industrial Engineering IAO
Researchers from Fraunhofer Institute for Industrial Engineering IAO, Stutttgart, Germany, wants to make sure that your smart office is also a clean office. Why wait for the cleanup crew to tackle paper scraps and food crumbs that hit the floor when a robot vacuum cleaner can be scheduled from your computer to do so?
By using an intelligent booking system in Microsoft Outlook, office personnel can secure the services of an iRobot Roomba 650 robot vacuum unit. The robot updates its schedule in real-time by taking requests for rooms with higher priority into account, and analyzes when conference rooms have been reserved and autonomously determines the best way to ensure those rooms are always clean for the next meeting.
A virtual map helps the robot find its way from its charging station to the room that requires cleaning. Human aid is only needed to open doors, which it signals by playing a predefined melody. Roomba returns to its charging station when the cleanup task is completed.
Plans are already underway to expand this concept once the first version has been successfully implemented. Proposed functions include Roomba being able to enter rooms without human assistance by means of automatic doors, smarter door locks or by connecting Roomba to speech assistants such as Amazon Alexa.
Integrating the robot vacuum cleaner into the ecosystem of the ENTOURAGE research project removes platform restrictions that plague existing internet of things and smart services devices. The ENTOURAGE open ecosystem enables cross-platform use of smart services, and will allow the Roomba vacuum assistant to communicate with speech assistants of different manufacturers, including Google's Alexa and Apple's Siri.