We first got to know Insta360 at this past CES 2018 in January where the company introduced the Nano S, a compact gadget that turns any iPhone into a real-time 360-degree camera for capturing, storing, editing and sharing video and photos.
Now, the company has launched its Insta360 Pro 2, a new six-lens professional virtual reality camera that can shoot 8K, 3D 360 degree video.
The professional camera can deliver 8K VR to viewers regardless of whether a user has a high-end playback device by using six cameras to capture every angle of a scene at once. The video or photos are fused into two 8K 360 images, one per eye, to create detailed 3D VR.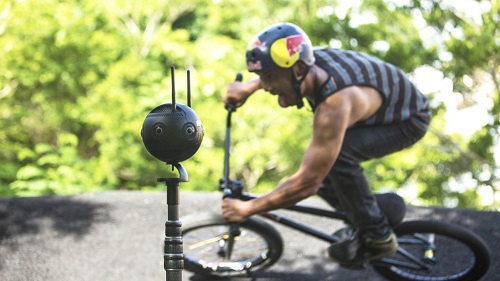 The Insta360 Pro 2 weighs 3.42 pounds and can be carried, mounted or equipped on a drone. Source: Insta360The camera can shoot in modes including 8K 3D at 30fps, 8K monoscopic at 60fps, 6K 3D at 60fps and 4K 3D at 120fps. Insta360 said the Pro 2 features a proprietary stabilization technology for virtual reality that achieves gimbal-level, stabilization with no gear necessary. The camera uses a gyroscope that tracks motion on nine axes and then allows creators to stabilize their footage down to a hair. This is done automatically, Insta360 said.
The camera can direct and control scenes from a distance of about 300 meters ground-to-ground and 1 kilometer ground-to-air. Weighing 3.42 pounds (including the battery and antenna), the Pro 2 can be carried or mounted or even equipped to a drone.
Other features include four built-in microphones for 360-degree audio, a pair of USB and 3.5mm audio inputs and six MicroSD card slots, one per each camera, to record at the maximum possible bitrate for image quality and post-production quality.
Insta360 is taking preorders for the Pro2 now priced at $4,999.95 including the battery and transmitter system. Shipping is slated to begin in September.