The next generation of solid state drives (SSDs) are already here as memory technology leaders push non-volatile memory express (NVMe)-based drives to market, promising a huge performance jump from existing SATA-based drives.
Samsung Electronics Co., Ltd. says it has begun mass production of a 512GB NVMe PCIe SSD in a single ball grid array package for use in next-generation PCs and ultra-slim notebooks. Samsung claims the SSD, which includes NAND flash memory, DRAM and controller, triples the performance of a typical SATA SSD with a slimmer form factor. The Korean electronics giant says the small form factor will allow for new, stylish designs of computers while offering enhanced performance.
At the same time, Micron Technology, Inc. has introduced a NVMe SSD of its own using its latest 3-D NAND flash technology. Micron says its 2100 SSD can be used for video creation and editing, online streaming and high-end gaming, and it offers four times the bandwidth of standard SATA SSDs. It also reduces data lag and bottlenecks by allowing for massive volumes of data to be processed simultaneously.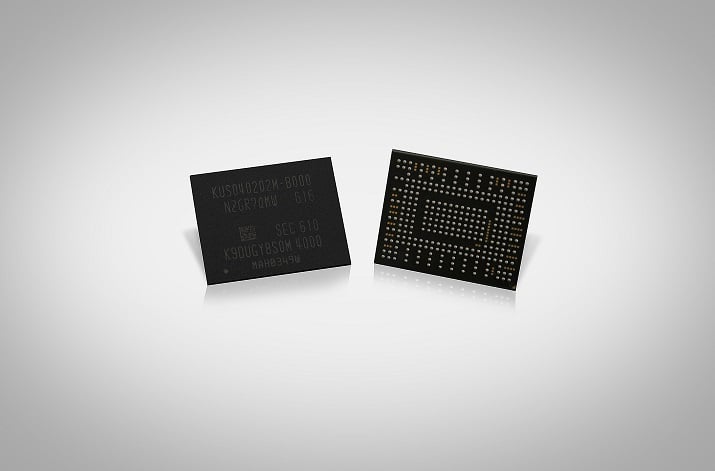 Samsung's 512GB NVMe SSD can offer three times the performance of typical SATA-based SSDs. Source: Samsung NVMe is a scalable host controller interface with a streamlined register interface and command set that is targeted at enterprise, data center and client systems that use non-volatile memory storage. The interface is seen as the next generation of SSD development and deployment in order to boost response times and performance inside servers and consumer PCs.
Samsung's PM971-NVMe SSD lineup is available in 512GB, 256GB and 128GB storage options, and will be available for purchase beginning in June. Micron says its NVMe SSD is sampling with production to begin sometime this summer.
Last week, Toshiba America Electronic Components Inc. introduced its 128GB, 256GB, 512GB and 1024GB capacity NVMe SSDs targeted at similar markets.
To contact the author of this article, email engineering360editors@ihs.com