Greenliant has started volume production of its industrial temperature (-40° C to 85° C) 2 terabyte NVMe and SATA M.2 ArmourDrive solid state drive (SSD) modules. Built in the 2280 form factor, and offered with hardware encryption and on-board dynamic random-access memory (DRAM), these high-performance SSDs save space,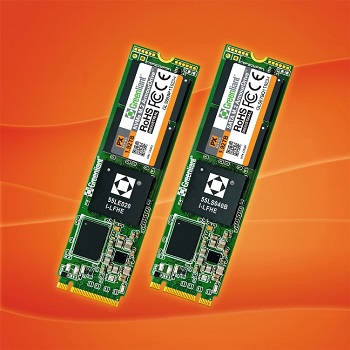 Source: Greenliantimprove security and increase capacity for a wide variety of applications, including video conferencing, in-flight entertainment and data logging.
Benefits of 87 PX series SATA and 88 PX series NVMe M.2 ArmourDrive SSDs with on-board DRAM include:
Wide range of capacities: Available in 240 GB, 480 GB, 960 GB, 1.92 TB
Built-in ECC: Use advanced bit error detection and correction optimized for 3D NAND
Advanced flash management: Extend SSD longevity using dynamic and static wear leveling
Data security: Support AES-256/TCG OPAL encryption and secure erase
Greenliant is shipping its full line of SATA and NVMe M.2 2280 PX series SSDs using industrial 3 bit per cell (TLC) 3D NAND flash memory. For more information about 87 and 88 PX series ArmourDrive products, contact a Greenliant channel partner.