At SEMICON West 2018, Semi has reported a mid-year forecast increase of 10.8 percent in semiconductor manufacturing equipment sales for 2018, totaling $62.7 billion -- a new record. This surpasses the $56.6 billion sold in 2017, but might be overshadowed by 2018 increase of 7.7 percent, for an expected 2019 total of $67.7 billion.
The projections for each type of equipment sector in 2018 is as follows.
Wafer processing equipment will increase 17.7 percent to $50.8 billion
Front-end sector equipment -- fab facilities equipment, wafer manufacturing and mask and reticle tools -- will rise 12.3 percent to reach $2.8 billion.
Assembly and packaging equipment is expected to jump 8.0 percent to $4.2 billion.
Semiconductor test equipment will increase 3.5 percent to $4.9 billion
The Semi report includes a detailed forecast of where the equipment will be bought. For 2018, South Korea will remain the top market, as it was last year. China will become the second largest market for 2018, ahead of Taiwan, which will recede to the third place. For 2019, equipment sales in China are expected to increase by 46.6 percent to $17.3 billion, taking the lead with respect to the rest of the world. South Korea, on the other hand, may decrease by 10 percent.
The following table and graph show the SEMI projections for the rest of 2018 and 2019.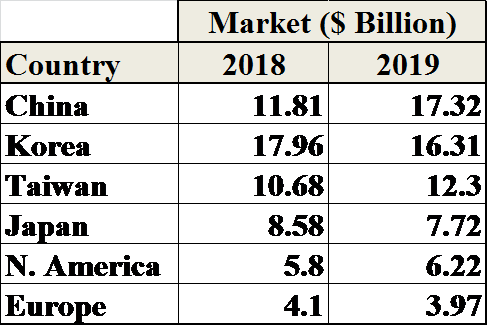 Source: Semi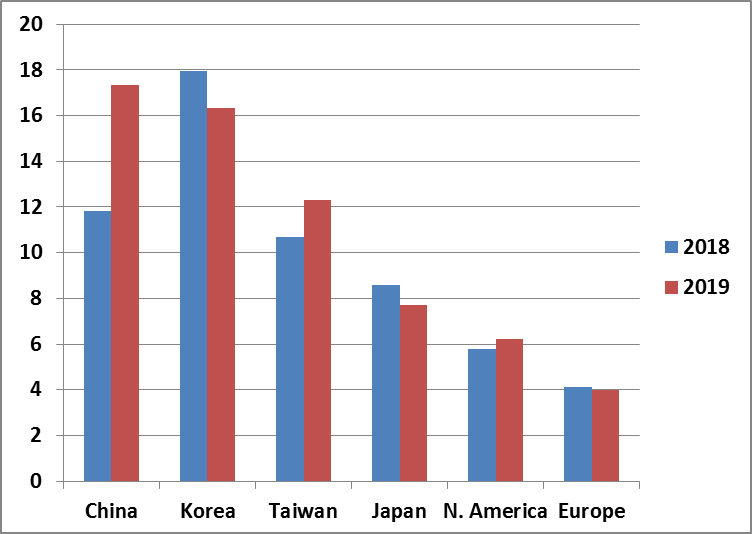 Source: Semi