A new technique developed by scientists from Francis Crick Institute and the Imperial College London has, for the first time, tracked how cancer drugs reach the target cells in the patient. Knowing what cells do and do not interact with the cancer drugs could help doctors decide the optimal drug delivery methods.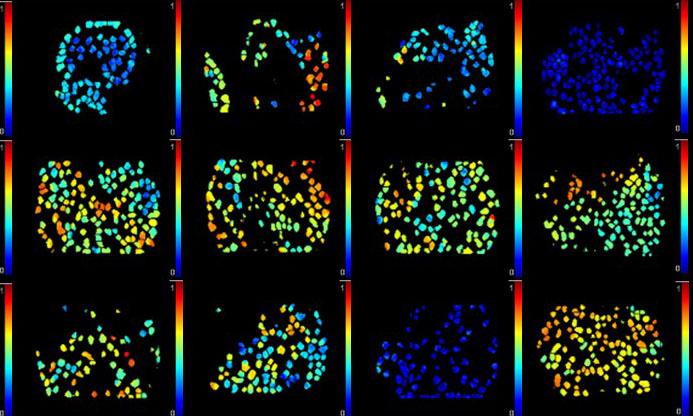 Imaging individual cancer cells in a tumor in vivo. (Source: Erik Sahai)
Chemotherapy is one of the most commonly used methods for fighting cancer. But chemo doesn't always reach all cancer cells in a tumor. Studying this problem has been difficult because it requires incredibly accurate measuring and viewing of how the drugs bind to the targets.
The current method of monitoring requires scientists to view the cancer cells in liquid taken from cancer biopsies. This method easily allows material from different cells to get mixed in with the cancer cells.
The newly developed method allows scientists to measure and view drug-target engagement of individual cells in a tumor with a miniature fluorescent microscope. The microscope allowed scientists to track how the chemotherapy drug doxorubicin targets ovarian cancer cells in mice. The testing found that drug-target engagement between the cancer cells and the drugs on one tumor was completely different on other tumors in the body. The drug-target engagement was shown to be better when the cancer drug was administered through the abdomen, rather than intravenously administered, which is the currently used method.
"Our findings show that in a mouse model delivery of doxorubicin through the blood does not reach all its target cells in the body, which could help explain why this chemotherapy drug is only partially effective in some cancer patients. In contrast, delivering the drug directly into the abdomen adjacent to ovarian tumours improved its target engagement, but this was still not sufficient to kill the cancer cells" says Erik Sahai, senior author of the paper and Group Leader at the Francis Crick Institute, "If we know that a specific cancer drug isn't reaching all of the cells within a tumour, it might be that we need to find ways to improve drug delivery throughout a whole tumour. Conversely, if we know the drug does engage its target but is still not sufficiently effective, it might be that different drugs or drug combinations should be explored."
The new method also images interaction between two light-sensitive molecules. With this method, the team labeled DNA inside cancer cells with a green fluorescent protein (GFP) that can transfer energy to the cancer drugs.
The paper on this new tracking method was published in Nature Communications.