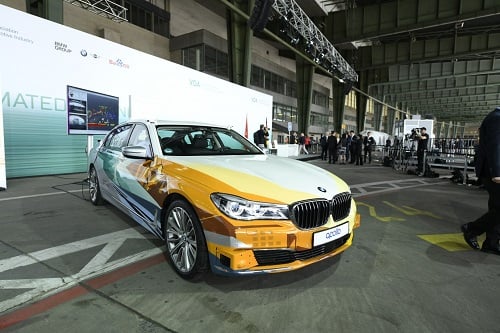 A prototype autonomous vehicle from Baidu's Apollo program. Source: BMWBMW Group has signed an agreement to join Apollo, the open autonomous driving platform from Chinese vendor Baidu Inc.
The deal will seek to bring safe, convenient and intelligent mobility experiences surrounding automobiles in China. The goal is to accelerate the development of self-driving technologies that will be focused on the Chinese consumer market, BMW said.
BMW has been developing an autonomous driving platform with technology solutions for Level 3 to Level 4/5 capability as well as advanced driving assistance systems (ADAS0). This technology will be brought into the Apollo program to further the technical aspects of the platform.
Apollo is an open platform that supports all major features and functions of a self-driving car. Apollo was launched in July of last year and Baidu has brought together 118 global partners from the automotive and technology industries to participate in the program. The goal of the program is to accelerate the pace of autonomous driving innovations by sharing resources and technology for the Chinese market, the largest automotive market in the world.