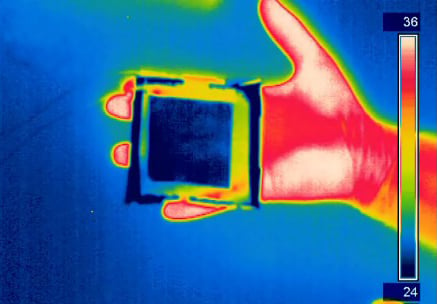 A new camouflage system makes a human hand invisible to a thermal camera. Source: American Chemical Society
While visual camouflage is an effective strategy for hunters, soldiers and a host of animals, scientists have tried to develop thermal camouflage — the appearance of being the same temperature as one's environment — for some time. They have encountered challenges such as slow response speed, lack of temperature adaptability and the necessity of rigid materials.
But an international team of researchers from Turkey, the United Kingdom and the United States has devised a system that is fast, rapidly adaptable and flexible, and can reconfigure its thermal appearance in a matter of seconds.
The system contains a top electrode made with layers of graphene and a bottom electrode made from heat-resistant nylon with a gold coating. Sandwiched in between is a membrane soaked with an ionic liquid, containing both positively- and negatively-charged ions. The ions travel into the graphene when a small voltage is applied, thereby reducing the emission of infrared radiation from the surface of the object being camouflaged.
The device has been demonstrated thermally camouflaging a person's hand, as well as disguising hot objects as cold and vice versa. Thin, light and easy to bend around objects, it could lead to new camouflage technologies ranging from adaptive infrared optics to heat shields for satellites.
The research appears in the American Chemical Society journal Nano Letters.