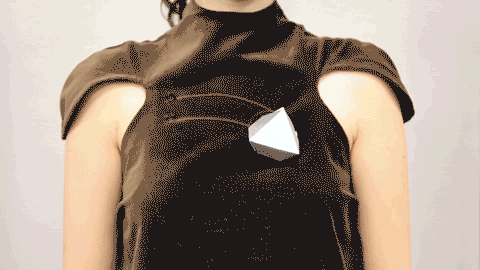 MIT's Computer Science and Artificial Intelligence Laboratory (CSAIL) have developed a number of miniaturized robots that act as accessories in fashion or living objects that roam the body.
These creepy little robots follow a pattern and can reconfigure their appearance according to the social context, enabling multiple presentations on the body, MIT CSAIL says. With the addition of sensor devices, the living jewelry can actively respond to environmental conditions or be paired with a smartphone to become a personalized on-body assistant to help complete tasks.
MIT says the goal of Project Kino is to miniaturize robots to an extent that these devices can be integrated into existing practices of body ornamentation. Traditional static jewelry and accessories will start displaying life-like qualities, learning, shifting and reconfiguring to the needs of the wearer, researchers say.
What Can They Do?
One of the interesting aspects of MIT CSAIL's living jewelry is its ability to cover designs in camouflage with the underlying textile. They can morph between unique pattern effects, for example a stripe pattern that matches a particular outfit. As the robot changes locations on the body, it creates different aesthetic effects.
Multiple devices on a garment can become the building blocks to form jewelry design as the individual robots form various shapes and designs. One example MIT CSAIL came up with was a robot that transitions from a brooch for work and then forms a necklace when going out.
With sensors embedded into the robots they can be used to actively adapt based on climate or comfort needs. MIT CSAIL created a coat and connected each drawstring of the hood to a device. When an increase in temperature was detected, the devices move downwards to unfold a hood.
Finally, the robots can etch into specific fabrics while moving, "drawing" patterns on fabric such as velvet and leaving visible tracks on the material. In essence, the clothes become a canvas for etching a design and because it is temporary, a new design can be created after it fades.
To learn more about MIT CSAIL's living jewelry robots, visit the Project Kino web site.