Thermal imaging is not just a kind of technology used in the movies. There are plenty of real-world applications for the technology that creates visual displays of the amount of infrared energy emitted, transmitted, and reflected by an object, such as medical devices, night-night vision cameras, and building inspections. The problem with the technology is that it is expensive and has many limitations.
A new thermal imaging development that uses graphene has been reported in ACS' journal Nano Letters, and could lead to a flexible, transparent and low-cost infrared vision system.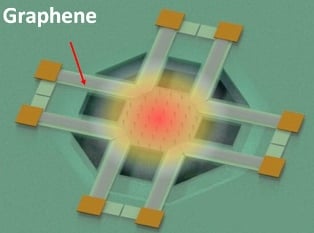 Thermal sensor made out of graphene could lead to better night vision technology. (Image Credit: American Chemical Society)Many of these current systems require cryogenic cooling to filter out background radiation, or "noise," and create a reliable image, which can complicate the design of these imaging devices and add to the cost and the unit's bulkiness. So researchers Tomás Palacios, Pablo Jarillo-Herrero and colleagues wanted to find a more practical solution.

In their paper, Graphene-Based Thermopile for Thermal Imaging Applications, published in American Chemical Society's Nano Letters, they explain:
"In this work, we leverage graphene's unique tunable Seebeck coefficient for the demonstration of a graphene-based thermal imaging system. By integrating graphene based photothermo-electric detectors with micromachined silicon nitride membranes, we are able to achieve room temperature responsivities on the order of ∼7–9 V/W (at λ = 10.6 μm), with a time constant of ∼23 ms. The large responsivities, due to the combination of thermal isolation and broadband infrared absorption from the underlying SiN membrane, have enabled detection as well as stand-off imaging of an incoherent blackbody target (300–500 K)."
To create the device, the team integrated graphene with silicon microelectromechanical systems (MEMS). Testing proved that it could be used to detect a person's heat signature at room temperature without cryogenic cooling.
Researchers hope to advance the device even further, adding more versatility. They say that a thermal sensor could be based on a single layer of graphene, which would make it transparent and flexible and even manufacturing could be simplified, reducing costs.
For further details, visit the American Chemical Society website.