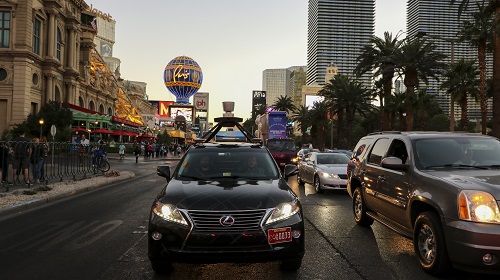 Torc tested its technology on the streets of Las Vegas. Source: Torc Robotics
There are a number of different companies developing autonomous driving technologies, from large automotive OEMs such as GM, Honda, Nissan, Volvo, Daimler, to new entrants in the automotive space including Tesla, Byton, Google's Waymo and SF Motors, to software vendors such as AImotive, Aurora, NuTonomy and more/
Torc Robotics came about as a result of a DARPA challenge to build autonomous vehicles for a competition in 2015 and the company continued to evolve its complete self-driving system before finally demonstrating it at this year's CES.
Now the company has released footage of the autonomous technology driving through the busy streets of Las Vegas. Torc said its system, known as Asimov, is designed to treat people differently than cars because people move differently than cars.
The video shows real situations when the self-driving car encountered pedestrians on public roads, stopping for people flooding into the street off a crowded sidewalk, observing a person walking in a bicycle lane or when people are at crosswalks and enter before the car has come to a stop.
Asimov uses a sensor suite and machine learning to detect and classify people as different entities than other objects, allowing the system to better understand how to safely behave around them, Torc said.
Torc is not just testing its system in Las Vega,s as it recently was granted a permit for self-driving testing in California, joining more than 50 other companies testing autonomous vehicles in the state.