Contrary to previous reports, Business Insider says Facebook's usage figures have increased since the Cambridge Analytica data scandal.
Data cited in the report tracks average daily minutes per unique visitor from U.S. mobile devices. This figure measured close to 40 minutes in April, representing a slight improvement over March, when the data scandal was first reported. The April numbers show a year-over-year improvement of nearly 20 percent as well as a month-over-month change of around four percent.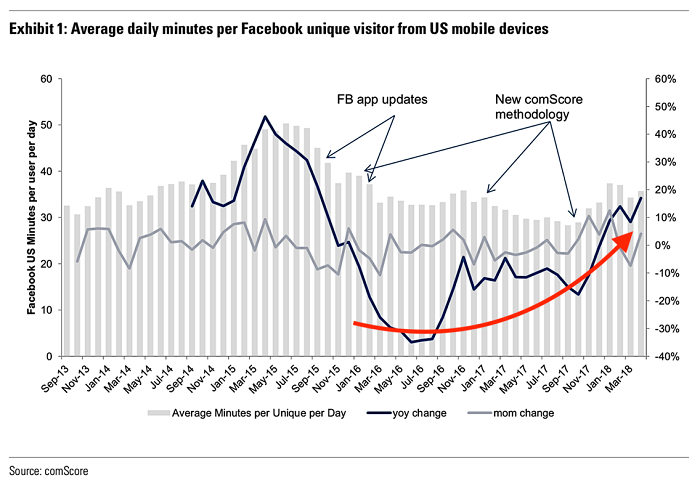 Source: Goldman Sachs
The report is based on comScore data reported in a Goldman Sachs client note. ComScore is a media measurement and analytics company that provides data services to ad agencies, publishers and other enterprises.
Media reports from April and earlier in May spoke of users leaving Facebook in droves on the heels of awareness campaigns like #deleteFacebook. But these reports flew in the face of Facebook CEO Mark Zuckerberg's statements to the U.S. Congress in mid-April. Zuckerberg claimed an insignificant fraction of the social network's users had deleted their accounts in response to the scandal, and that his company would see minimal impact in the wake of the scandal.
The latest comScore data seems to confirm Zuckerberg's claim.