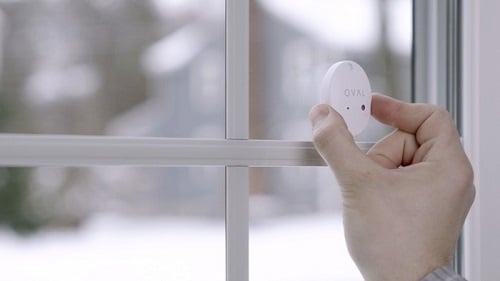 The Oval smart sensor can attach to most surfaces. Source: Oval Digital
Oval Digital Inc. has introduced a new smart home device that attaches to a wall or a device and turns it into a smart sensor helping to protect the house, people or things that consumers care about.
The smart sensor, called Oval, monitors or detects changes in motion, temperature, humidity, light and water, quickly sending alerts to a homeowner on a smartphone or through email.
Oval can connect to both Google Home and Amazon Alexa, with homeowners being able to ask what the temperature is in the baby's room or to be notified by Alexa if there is water in the basement. With IFTTT (If This, Then That) support, Oval can be connected to other devices to provide home automation for whatever you want.
Oval Digital said the sensor doesn't require home integration or installation and the gateway is wireless and can be placed anywhere in the home. Oval can communicate with the gateway up to 150 feet with additional gateways providing for longer range.
The company has started a Kickstarter campaign where it is accepting pre-orders for the Oval device that is planned to ship in the fall of this year. For more information about the campaign, click here.