Industrial & Medical Technology
Selecting the right tool for laser triangulation
10 December 2020
In any field of endeavor, selecting "the right tool for the job" is the best approach for maximizing efficiency, minimizing costs and, ultimately, ensuring success. This principle is just as valid for precision measurement at nanoscale resolution as it is for DIY projects around the house. The process of outfitting one's home tool cabinet, however, affords the leeway to learn from mistakes. A far more informed approach is needed to meet the exacting requirements of electronics production, medical technology, precision optics and other industries.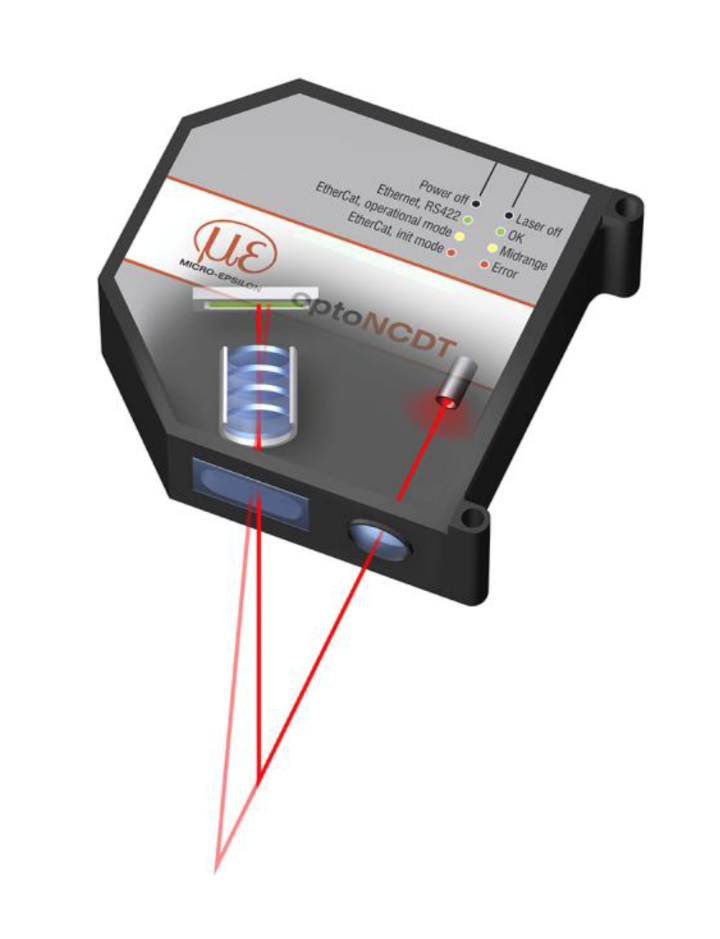 Figure 1. The key concept for precise laser measurement is triangulation. Source: Micro-EpsilonThe pinpoint accuracy of laser sensors makes them an invaluable tool for industrial measurement tasks. The key concept is triangulation, which makes use of a sensor equipped with a laser diode, a receiver element and a filtered, multi-lens optical system. A laser beam is emitted from the diode onto the surface of an object, then reflected back through the lens and projected onto a position-sensitive receiver such as a charge-coupled device (CCD) or a complementary metal-oxide semiconductor (CMOS) array. As the object moves along a linear axis such as a belt or roller, the reflected light changes position. This allows its displacement to be digitally analyzed by a controller, which is ideally on board the sensor, and subsequently translated into a measurement.
Laser triangulation can be performed on a variety of surfaces, producing a number of different measurement types. These include unitary measurements such as position, thickness and vibration, as well as two- and three-dimensional measurements such as profile, gap and contour. The small size of the laser beam can be leveraged to allow measurements from large distances onto very small objects, rapidly and with high-resolution accuracy. Because only the beam actually touches the surface, the process is contactless and wear-free.
The most important consideration is the configuration of the sensor. Numerous options are available to accommodate the unique circumstances of the measurement task itself.

Figure 2: Laser sensors offer a wide field of applications.
Red lasers
The standard sensor configuration, covering 60% to 70% of all measurements, employs red lasers — the same type found in store checkout scanners. Operating close to the infrared spectrum, a red laser possesses a long wavelength (670 nm) and high intensity that allows it to accurately track non-reflective targets and fast-moving objects. Because they have enjoyed a long period of development, red lasers are available in a wide range of variations. They are frequently the best and most cost-effective solution for any measuring task, especially when it comes to dynamic measurements with high resolution.
Red lasers with small oval laser spot
Red laser accuracy is challenged, however, by a variety of special circumstances. Specular (highly reflective) surfaces, for instance, produce a "speckle" effect distortion of the reflected beam. The laser's high intensity can also produce light penetration and diffusion on some surfaces — especially organic, translucent and transparent materials — causing the reflected light to become blurred.
Rough and structured surfaces can also create non-homogenous noise. By using a specially designed sensor to emit an oval spot, triangulation happens around a laser line rather than a laser point. Surface qualities can then be averaged to filter out disturbances.
Blue lasers
Many of the challenges encountered with red lasers can be solved by the color of the beam. Blue lasers operate from the opposite end of the spectrum, close to ultraviolet light, giving them a shorter wavelength (405 nm) and lower intensity. This translates to less penetration and diffusion on target surfaces, with a sharper and more stable focus. Blue lasers are a preferred choice for organic, translucent and transparent materials, including some plastics, adhesives and glass.
If the target materials emit their own infrared light, as is the case for heated glowing metals, the resulting interference will skew readings of red laser sensors. Unaffected by interference from the red glow of heated metals, blue lasers found one of their earliest applications in the steel processing industry. They have also been employed in automotive applications such as measuring exhaust manifold vibration. Highly polished surfaces fare well under blue lasers, with noise caused by speckling significantly diminished — typically by a factor of 200% to 300%.
Blue laser triangulation sensors incorporate specially designed elements such as filters and lenses, receiver elements, controllers and analysis algorithms. Micro-Epsilon, an innovator in the laser triangulation field, first introduced its patented blue laser measurement technology with the debut of its optoNCDT BL sensors.
Sensor selection
Selecting sensors that are best suited to various measurement tasks is the key to unlocking the full range of available laser technology. Some best practices can be gleaned from consideration of the broad range of configurations available from an established company such as Micro-Epsilon, which offers more than 85 non-contact displacement transducer (NCDT) sensors to cover a large number of applications across many different industries. An online configurator is available to narrow sensor selection according to many of the attributes discussed above.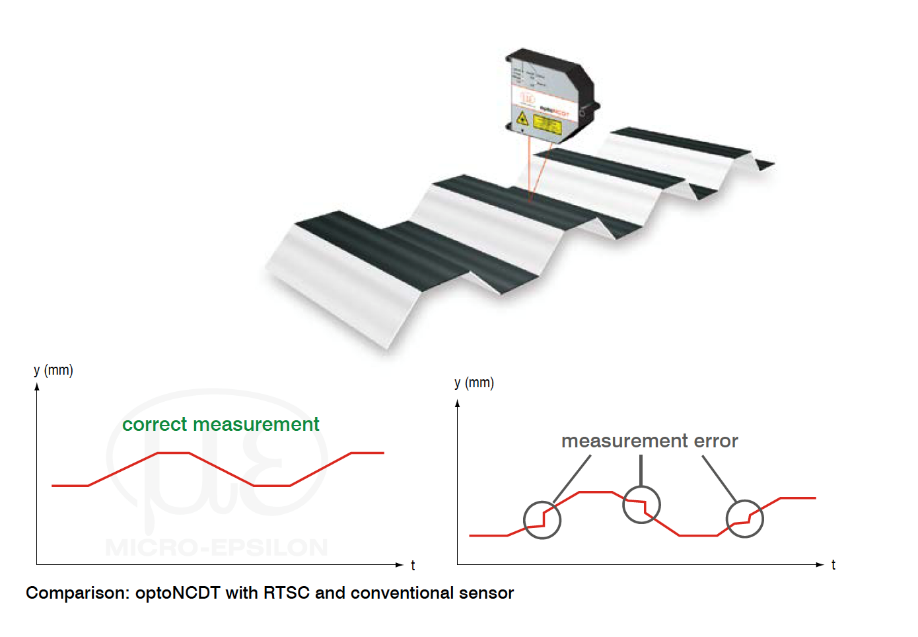 Figure 3. Real-time surface compensation (RTSC) compensates for relfection variations during continuous exposure. Source: Micro-EpsilonThe company has developed a universal standard 1900 series, as well as a high-performance 2300 series. Models in both series are operated with an intuitive web interface featuring surface type presets and continuously adjustable measuring rates. Both lines also feature a surface compensation function to compensate for reflection variations during continuous exposure, as illustrated in Figure 3.
The optoNCDT 900 is the industry standard model, with a compact design suited for industrial applications in automated machines and production plants. It offers high-speed measurement, specialized algorithms for high accuracy and dynamic range, and a measuring rate adjustable up to 10 kHz.
Its high-performance counterpart, the optoNCDT 2300, offers resolution accurate to the sub-micrometer range. It also transcends some of the limitations of standard red-laser models, providing a special alignment mode for specular surfaces and a capacity for measuring transparent material thickness. Suited for applications such as high-speed vibration monitoring, it offers greater precision and dynamic range, an advanced RTSC function and an adjustable measuring rate up to 49.14 kHz.
Both the 1900 and 2300 series are also available in special configurations. The sensor alignment of the optoNCDT 2300DR enables direct-reflection measurements on specular objects such as mirrored glass and polished metals. Both the optoNCDT 1900LL and the optoNCDT 2300LL operate by the laser line triangulation principle described above.
In the blue-laser realm, the optoNCDT 2300BL offers high resolution and reliable signal stability on glowing metals and organic materials, while the higher adjustable measuring rate can accommodate fast-moving objects. The extreme stability of another blue-laser model, the optoNCDT 2300-2DR, brings direct-reflection measurement into the realm of nanometer resolution.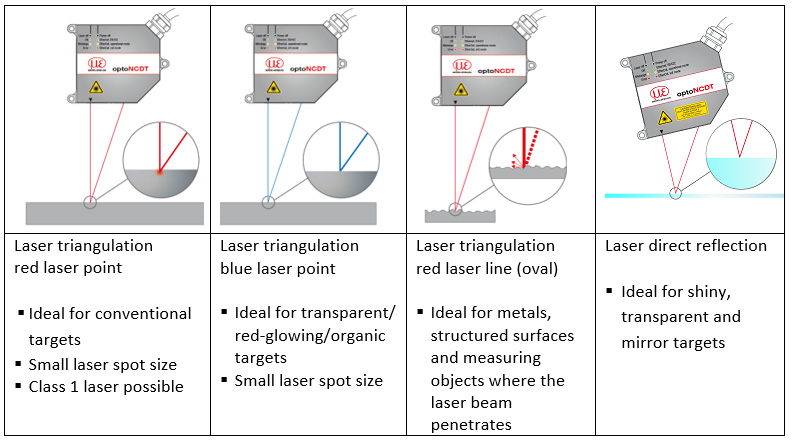 Figure 4. Overview of sensors and field of applications
Micro-Epsilon advantages
Alongside the many attributes discussed above, Micro-Epsilon sensors feature first-in-class precision, certified calibration and robust construction designed to withstand harsh conditions. There is also the option of customer-specific modifications.
The advantages of choosing an industry leader are many; for Micro-Epsilon, chief among them are the company's broad product range and its expertise in designing solutions. Simply put, the company is a "one-stop shop" able to help its customers select the right tools for the job.
To learn more, visit Micro-Epsilon online.
Find Free Electronics Datasheets