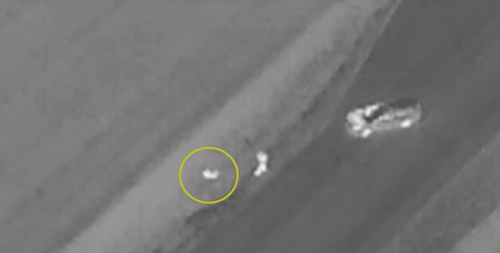 An aerial view of a drone spotting a person in trouble via thermal camera. Source: DJI
Earlier this year, it was reported that drones had saved six people at sea over the course of 2016 and 2017.
Now, one of the largest drone makers in the world, DJI, has updated that number stating that at least 65 people have been rescued by drones in the last year.
DJI gathered reports from news outlets and public safety agencies around the world and includes 27 separate incidents on five continents.
DJI has now counted at least 124 people around the world rescued by drones through dropping buoys to struggling swimmers in Australia and Brazil, spotted unconscious victims in sub-freezing weather in England and America and found stranded people in fields, rivers and mountains.
"Drones allow rescuers a way to find missing people, deliver supplies like food and life vests, and cut search and response times from hours to minutes," said Brendan Schulman, DJI vice president for policy and legal affairs. "When laws and regulations allow public safety agencies to deploy drones easily, rescuers are able to save time and money, protect their personnel, and most importantly, rescue people from peril."
According to the new report from DJI, more than one person a week was rescued by a drone over the last year on average, including at least 18 people found by thermal imaging cameras that can sense a person's body heat even in darkness or when hidden by thick brush.
DJI points to one incident involving a car crash where police could not find a driver on a cold night. A drone with a thermal imaging camera spotted the driver in a ditch away from the crash scene and guided the officers to find him.