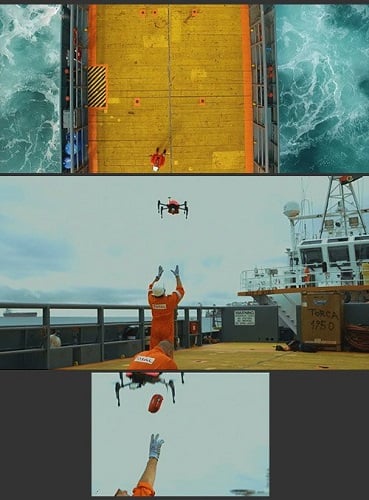 A drone drops a self-inflating buoy to a drowning victim, then helps with location through GPS. Source: Helper Drone Drones may be fun to pilot for a family or consumer that wants to take aerial photography or just for pure entertainment. Yet, more recently we have seen real-world uses of flying drones beyond just entertainment, including status monitoring of oil and gas pipelines, construction surveying and now lifesaving.
Helper Drone has announced that it has saved a total of six people from drowning at locations off the coast of France, marking the first time in the world that swimmers were saved by a professional drone lifeguard.
The drone company was the product of an employee of Total, a French-based oil, gas and energy company who invented the drones because Total was interested in saving lives at sea when, for example, an employee falls off an offshore platform, but also because drones have other uses for the offshore industry such as performing tests or surveying.
The six lives saved took place during the past two years, with three being saved off the coast of France in the summer of 2016 and another three in the summer of 2017. The drone rescues were witnessed and assessed by local lifeguards, firefighters, doctors and the French government, Total tells Electronics360.
In the summer of 2016, the Helper Drone was deployed on Biscarosse beach, while in 2017 they were deployed on several beaches in two different cities in the southwest of France — Biscarosse and Lacanau. The drones were also tested in Miami in late 2017 to validate the feasibility of the solution on beaches, and during an exercise, a man at sea was saved in less than 30 seconds by a drone, Total says.
The company plans to industrialize the drones as a life-saving solution on beaches across Europe and the United States. Helper Drone says that each year 360,000 people die by drowning in the world, and drowning is the second leading cause of unintentional injury death in children aged 1 to 14 years old.
The drone works by carrying a self-inflating buoy that it drops in close proximity of a drowning victim. Then the drone helps to identify the exact location of the person in danger by using GPS, compass and altitude to guide lifeguards, helicopters, jet skis and lifeboats to the victim.
One of those saved was a woman in her 30s who got caught in five-foot waves. A Helper Drone arrived in 40 seconds and dropped a buoy with a jet ski arriving 2 minutes after to bring her to shore. Another save came when two guys in their 20s got caught in 20-knot winds while surfing. The drone found them in a few seconds and then flew around the surfboards to indicate their location so the surfers could get back to the boards with a jet ski arriving a few minutes later.